Low-maintenance composite and PVC decks
Should you use AZEK or TimberTech for your new outdoor space?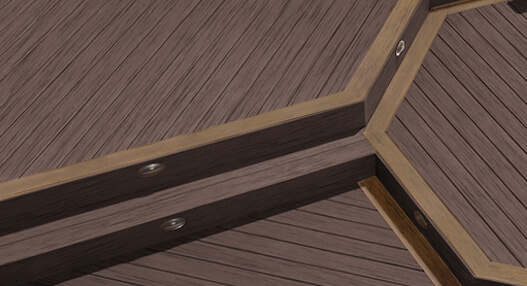 TimberTech® Tropical Collection has multi-color streaking and exotic wood grains that complement rich saturated tones
AZEK and TimberTech are both low maintenance synthetic wood brands. We have been using both for years and can attest they are both heavyweights in the composite decking category. You may be surprised to know that, although they are still 2 different brands, the companies actually joined forces in 2014. They have a couple of key similarities and differences which we will enjoy sharing.
What is composite or synthetic wood?
In order to share the similarities and differences of the brands, we have to back up to talk about the category. Composite or synthetic woods are decking boards, or railing, that provide a number of characteristics making them low maintenance. What that means is you will not have to paint, stain or seal them – ever. They come with warranties, typically of about 25 years. These strong warranties protect against splitting, rotting, and splintering – all the maladies that natural wood suffers as it ages. Both TimberTech and AZEK provide a minimum of a 25 year warranty so you can feel confident that your investment and product are warrantied to stand the test of time.
What is it exactly? The category that might have previously been described as "fake wood" or "plastic wood" has come a long way. These descriptions stemmed from how composite wood looked when it first came on to the market over 20 years ago. Tremendous design advances have been made to the degree that they likely are rarely now perceived as appearing fake or plastic.
Reach out to the Archadeck team today at (847) 250-4100.