Low-maintenance composite and PVC decks
Should you use AZEK or TimberTech for your new outdoor space?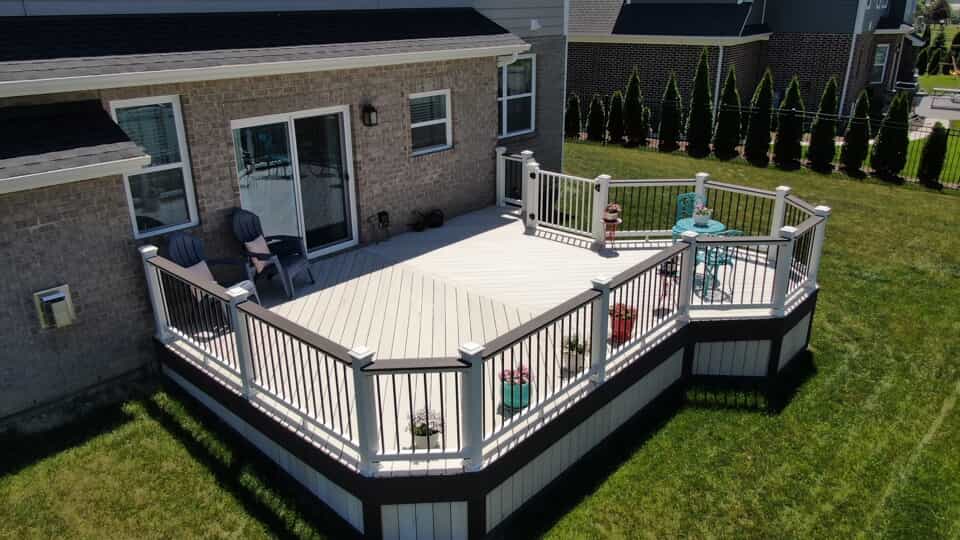 Should you use TimberTech AZEK™ for your new outdoor space?
TimberTech AZEK™ is a low-maintenance synthetic wood brand. We have been a platinum partner of TimberTech AZEK™ for years and can attest that they are heavyweights in the composite decking category. Before the two brands merged, they were separately known as TimberTech and AZEK. They came together around 2014 to provide consumers with top-of-the-line low-maintenance decking options.
What is composite or synthetic wood?
Composite or synthetic woods are decking boards, or railing, that are considered low-maintenance by eliminating the typical maintenance of wood. What is it exactly? This category may have been known as "fake wood" or "plastic wood" and has come a long way. These descriptions stemmed from the look of composite wood when it first came on the market over 20 years ago. Tremendous design advances have been made to the degree that they likely are rarely now perceived as appearing fake or plastic. Low-maintenance or synthetic decking provides confidence in knowing that the color of your deck will last for years without the hassle of sanding, sealing, or staining. Another added benefit is that TimberTech AZEK™ decking resists mold, mildew, stains, scratches, insects, rotting, and fading, and it won't splinter.
Pair maintenance-free decking with unmatched warranties
Every brand of composite decking offers its warranties. We are partnered with TimberTech AZEK because we believe their warranties are superior. These strong warranties protect against splitting, rotting, and splintering – all the wear natural wood suffers as it ages. TimberTech AZEK™ provides a minimum of a 25-year warranty. You can feel confident that your investment and product are warranted to stand the test of time.
TimberTech Advanced PVC offers a lifetime limited product warranty & a 50-year limited fade & stain warranty.
TimberTech Composite by AZEK offers a 25–30-year limited product warranty and a 25-30 year fade & stain warranty.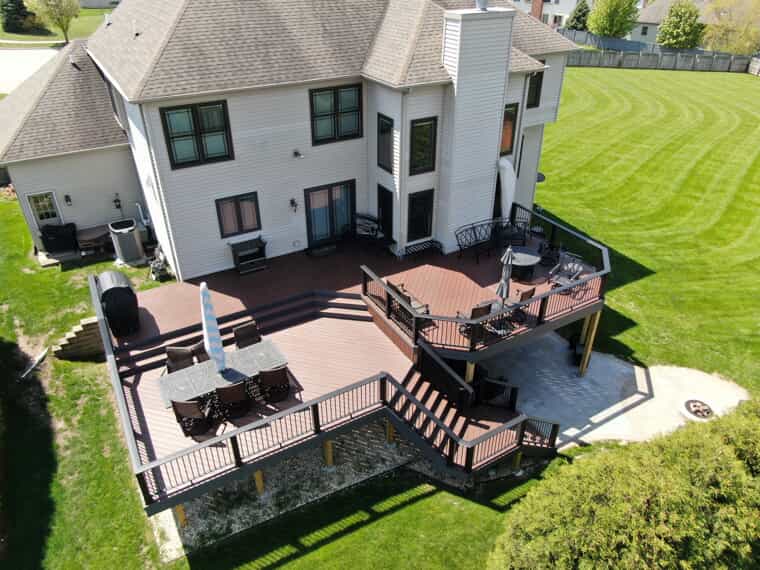 TimberTech by AZEK has two different types of decking.
With TimberTech AZEK ™ you can choose between advanced PVC and composite decking.
TimberTech Advanced PVC
Offers homeowners the most realistic wood look with three different collections.
Advanced PVC Collections: Vintage, Landmark, & Harvest.
The Vintage Collection is a PVC board capped with a PVC coating providing additional fade and stain resistance. In this collection, the boards have a rustic scraped texture and a variety of rich deep colors. The colors include a medium brown shade, Cypress, a dark brown shade, Dark Hickory, a reddish-brown Mahogany, a warmer brown English Walnut, a gorgeous light brown Weathered Teak, and a rustic grey/brown Coastline.
The Landmark Collection provides a reclaimed wood look. The collection is highly resistant to moisture damage and is optimal for warmer climates as it stays cooler to the touch. The color selections include Castle Gate, French White Oak, American Walnut, and Boardwalk.
The Harvest Collection is a traditional decking style with a cathedral wood grain and solid color. This collection gives you a freshly stained or painted look without the maintenance. Color options include; Kona, Brownstone, & Slate Gray.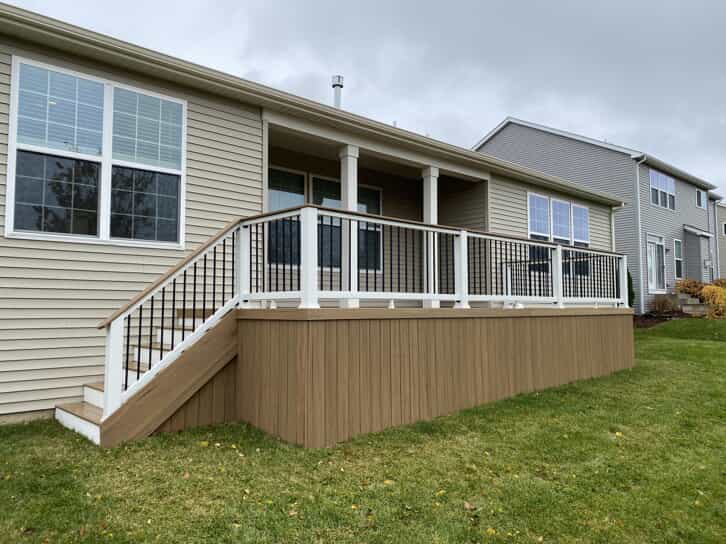 TimberTech Composite decking
TimberTech Composite decking is a durable capped composite board that looks like wood. This type of decking locks out moisture and ensures the color is maintained.
Composite Decking Collections: Legacy, Reserve, Terrain, Premier, Prime +, Prime
TimberTech Legacy Collection is a capped composite that emulates interior hardwoods with a hand-scraped texture and a color pallet that resembles hardwoods. Tigerwood is arguably the most popular color in the line. Tigerwood is a medium brown color. What's unique about this collection is the board-by-board shade variation that mimics its Brazilian hardwood equivalent. The collection includes a richer brown Mocha, a lighter shade of Pecan, and a darker grey, Ashwood.
The Reserve Collection resembles a reclaimed wood look to add a rustic charm to your deck. Made of a premium polymer-capped composite, these boards are highly durable and mold resistant. This collection contains four stunning colors; Reclaimed Chestnut, Driftwood, Dark Roast, andAntique Leather.
The TimberTech Terrain Collection has an authentic graining design that mimics natural hardwood. These colors include Brown Oak, Rustic Elm, and three lighter shades of Silver Maple, Sandy Birch, andStone Ash.
The Premier Collection has a painted wood look and a flat square-shouldered board. The two color options include; Maritime Gray and Dark Teak.
Next up is the Prime+ Collection. These boards provide a traditional wood look with a subtle blend of complementary colors to create a dimensional look. Color options include; Dark Cocoa, Sea Salt Grey, andan orangey-brown Coconut Husk.
Finally, the Prime Collection is an opaque painted or stained wood look that offers a solid color board. These boards are lightweight polymer-capped composite. There are two color options; Maritime Gray and Dark Teak.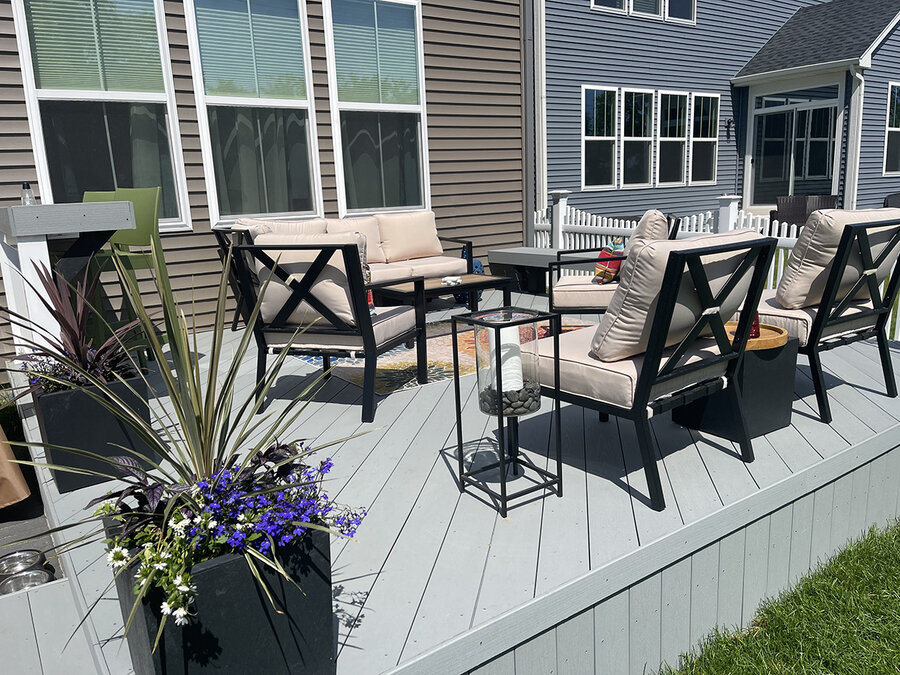 Much comes down to aesthetic preference
All of the synthetic decking lines produce boards in a variety of colors. In addition to a difference in color pallet, many companies now provide additional design characteristics giving the boards streaks, grooves, and other design details to more closely mimic the look of genuine wood. Each decking detail varies by the board. Take your time evaluating the aesthetic you prefer. Each decking collection offers gorgeous color options to consider when designing your deck. Paring their superior composite decking with other materials like low-maintenance rail options, you can get creative while designing your dream deck.
Should you use TimberTech AZEK™?
The best way to make this decision is to do your research. The resource above will guide what you would like to explore further. TimberTech AZEK™ has a great website where you can see images of each of the shades.
Another great place to start is by asking your Archadeck design consultant. As you can imagine, we've built synthetic decks in the Chicago area with numerous collections and shades. We can guide you to what's most popular and show you images of structures we've built with the various boards. We also encourage you to visit the homes of some of our references. There is nothing like seeing the materials in use. Archadeck of Chicagoland-Naperville's goal is to thoughtfully provide options, features, and benefits to help you make the best decisions for your deck.
For more pictures of synthetic decks, please visit our Chicagoland Composite and Decks photo gallery
Reach out to the Archadeck team today at (847) 250-4100.