Archadeck of Chicagoland is your trusted Downers Grove, IL Contractor!
Custom Design your Downers Grove Outdoor Living Space!
Downers Grove, IL is quickly becoming a sought-after town with an expanding downtown area, new home builds, and convenient access to the city. Archadeck of Chicagoland has seen an increase in the number of homeowners in Downers Grove looking to redo their outdoor living space.
Downers Grove has a great mix of old-style homes which are known for their gorgeous architecture and narrow yards, as well as their new builds which feature blank canvases to create brand-new outdoor spaces. It's important to look for a contractor who is able to match the architecture of your home so that your space feels cohesive.
Archadeck of Chicagoland is a custom design company, meaning each project is custom designed to fit the shape of your yard, the style of your home, and the desired aesthetic you're looking for. Whether you have an older home or a brand new build, we can custom design a deck, patio, screened porch, open porch, pergola, gazebo, or whatever you're looking for to match your home.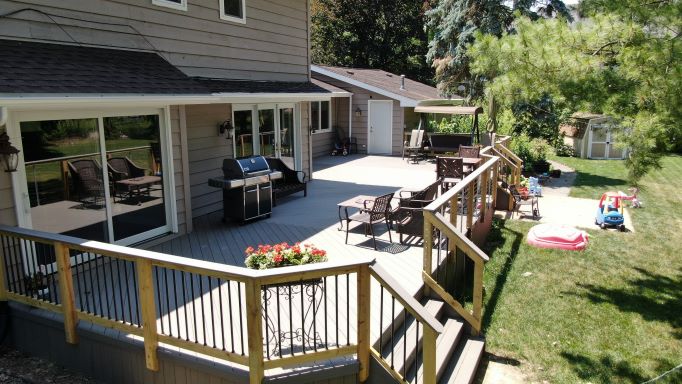 ​​​TimberTech Deck with Wooden Rails
This deck looks like it was built with this Downers Grove home. These homeowners wanted something to expand the length of their home that was low maintenance yet still within their budget. They opted for TimberTech decking with a hybrid rail which is a cost saver, which features wooden rails with a low-maintenance board on top to match the decking.