Archadeck Chooses Belgard as their Preferred Patio Vendor
Archadeck and Belgard are premier partners providing Chicagoland homeowners with one of a kind paver patios
Archadeck chooses Belgard as their preferred patio vendor at both a local and national level. As a premier partner, Archadeck strives to provide clients with the highest quality hardscaping products. Belgard is one of the largest suppliers of hardscaping materials in the US and globally. Belgard pavers are popular due to their durability, versatility, and longevity. Belgard carries many collections with a vast range of sizes, shapes, and colors making no two patios the same. The primary reason Archadeck chooses Belgard is the incredible level of customer service they provide. Belgard responds quickly to our client's questions and concerns and our Belgard rep is always available to answer questions, provide insight, or even bring samples into our showroom!

Why Belgard stands out as the #1 Hardscape Brand
As the #1 hardscape brand in North America, Belgard stands out as the top brand for paver solutions. Their Innovation, Expertise, and versatility provide homeowners with information & tools to design their dream patio.
Innovation: Belgard is actively researching & developing the latest and greatest hardscaping materials. With revolutionary hardscaping systems, Belgard has created some of the most popular paver products nationwide.
Expertise: Belgard has a professional team of members that help educate vendors, homeowners, prospects, and suppliers on their products. They provide insights on top-selling products, training materials, & design ideas.
Versatility: Belgard has a wide range of products, allowing you to explore unique and one of a kind designs. Belgard has design guides, pictures, videos, and tools to help you narrow down your favorite products and make designing your dream patio easier.
Archadecks Top Selling Belgard Products
As a custom design & build company, Archadeck focuses on providing our clients with designs that include high-quality materials, versatile details, and revolutionary systems. Belgard has an extensive product line that Archadeck has narrowed down to some of Chicagoland homeowner's top choices when choosing Archadeck as their Belgard patio contractor.
Dimensions™ 12: These pavers offer a contemporary look. The main elements include clean lines, smooth surfaces, and delicate accents. As one of Belgards most diverse pavers, there are so many design opportunities for this system.
Origins 12: This 3-piece system paver features accents that are designed to have a natural stone feel & look. With a modular size, the design potential of this paver is endless.
Holland Stone: Holland Stone is a great option if you're looking to add borders, patterns, or a modular look to your space. They provide a uniform look for simple shapes and are extremely durable.
Mega Arbel: These pavers are a client favorite. They are designed to provide an irregular shape to mimic the look & feel of natural flagstone. This stone is great for unique designs, pops of texture, and designated spaces.
Weston Stone Wall: The Weston wall is Archadeck's top-selling seat wall, retaining wall, and pillar. As a dynamic stone, the Weston pairs with most pavers providing a natural look and a wide range of versatility.

Happy Clients Rave About Archadeck & Their Belgard Patios!
"I absolutely love my new covered deck and patio. Kristen, our designer, was able to capture exactly what we were looking for when we only had a vague idea of how we wanted it to function. She was patient and went through many redesigns with us. Quality of work and final build exceeded our expectations. Highly recommend! - Jenny T
"Archadeck was a fantastic company to work with. We had them replace and rebuild our wood deck and paver patio. Every step of the process was smooth, from the design to the scheduling to the construction. The end result is a beautiful, high quality, outdoor space. I would highly recommend them!" - Nick B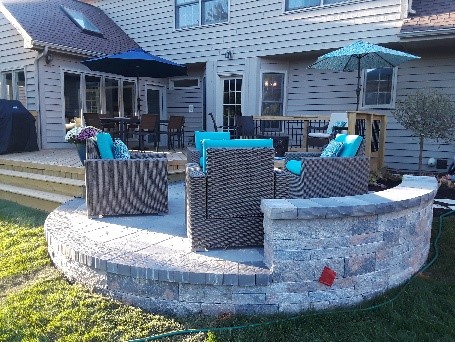 Read more testimonials here.
Are you still deciding if a paver patio is the right choice for you?
If you're unsure if a paver patio is the right choice for you, Archadeck's professional design consultants can help you navigate what's best for you. With over 25 years of experience custom designing & building patios, you can ensure your patio will exceed your expectations, enhance your home, and elevate your outdoor living space.
Also read: Chicagoland Patio Contractor
Check out our Patio Photo Gallery here
Download our design guide here
Visit Belgard