Screened In Porch Builder in Johns Creek, GA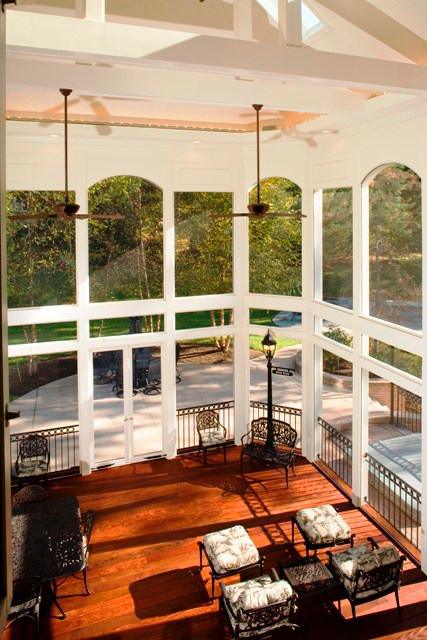 Screened-in porch design and installation is a great way to add an extra layer of protection from the elements while still enjoying the outdoors. Not only does it provide protection from bugs, wind, rain, and other outdoor nuisances but also makes your home look more attractive with its stylish designs. When hiring a professional for the job, there are many considerations that need to be taken into account when making such an important decision.
When designing your screened-in porch there are several things you should consider such as:
Size and shape of space available
Materials used
Placement of furniture
Type of screen mesh desired (aluminum vs fiberglass)
Color scheme/style preference (contemporary vs traditional).
Looking for back porch ideas? Give us a call at (661) 388-9299 or contact us online to consult with a Archadeck contractor near you today!
It's also important to make sure that any openings/doors leading outside have screens installed over them so unwanted pests can't enter your home. Additionally, if you plan on installing lighting fixtures around the perimeter then ensure they meet local electrical codes before proceeding with the installation process itself. Depending on what kind of structure already exists at the site where the new screened-in area will go may require some demolition work prior to beginning the actual construction phase which could potentially increase the cost overall project significantly depending complexity involved in tearing down existing structures etc.
Once all necessary preparations have been made for the installation process itself the next step would involve hiring a qualified contractor who has experience building similar projects like yours. That's where Archadeck of Alpharetta comes in! With the right combination of planning effort put forth by the homeowner plus professional expertise provided by the contractor, screened-in porches increase your home's value while providing a comfortable place to relax and spend time with family and friends alike!
Let's create the screen patio of your dreams! Dial (661) 388-9299 or contact us online to get started!