Outdoor Kitchen Design and Installation
Outdoor Kitchen for Your Home
Are you looking to upgrade your outdoor space? Archadeck of Alpharetta is here to help with our top-of-the-line outdoor kitchen designs, materials and installation services. We specialize in creating unique and custom outdoor kitchens that will make any yard the perfect gathering spot for friends and family. With a variety of stylish add-ons such as fire pits, seating areas, and grills, you can create an oasis right in your own backyard.
What makes Archadeck of Alpharetta the best option for your outdoor kitchen installation?
Our client testimonials serve as proof of our abilities.
Archadeck offers a written warranty for one year on workmanship and a five-year warranty on structural integrity for our sunrooms. See more here.
Our outdoor kitchen contractor are educated, authorized, and certified in all relevant fields.
The priorities of our team are design and quality.
Unique & custom designs.
We provide financing options.
Call us at (770) 763-7778 or contact us today and get ready for summer with an amazing new outdoor kitchen!
You'll never worry about entertaining outdoors again! Our team of professionals ensures every detail is taken care of so you don't have to lift a finger. Plus our high quality products are designed to last through whatever mother nature throws at them - from rain or windy days to sweltering summers – all while keeping their elegant beauty intact for years to come.
Frequently asked questions about outdoor living space installations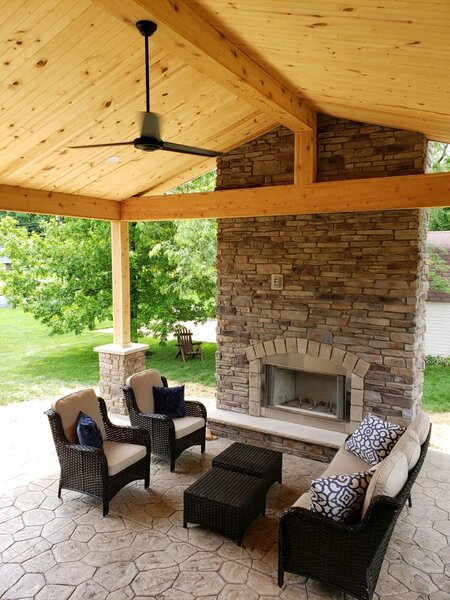 What Can Be Added To An Outdoor Kitchen?
When planning your outdoor kitchen, think about the features you want to include. Consider adding items such as a pizza oven, a built-in refrigerator or freezer, a sink with running water, countertops made of stone or granite, an outdoor fireplace or fire pit, and comfortable seating. You can also add lighting fixtures such as string lights or electric sconces. The sky is the limit when it comes to designing an outdoor kitchen that suits your style!
Does Building An Outdoor Kitchen Add Value To Your Home?
Outdoor kitchens are becoming increasingly popular with homeowners looking for ways to increase the value of their property. A well-designed outdoor kitchen can turn your backyard into a cozy retreat that provides hours of enjoyment for family and friends alike. Not only will this improve the aesthetic appeal of your home, but it could also increase its resale value by up to 20%.
What To Consider When Building An Outdoor Kitchen?
When designing your outdoor kitchen there are some important things to keep in mind. First, consider the size and shape of your yard as well as any possible obstructions such as trees or other landscaping elements that might interfere with your design plans. Next look at materials – what type of countertop do you want? What type of appliances would be best suited for your needs? Finally, think about budget – how much money do you want to spend on this project? All these factors should be taken into consideration when designing an outdoor kitchen.
Have any questions whatsoever about outdoor living space installations? Call us at (770) 763-7778 or contact us online!