FRONT Porch Builders NEAR Johns Creek, GA
Extend Your Outdoor Space with a Custom Porch Addition
What better way to relax and unwind than sipping a cup of coffee and reading a good book surrounded by nature? Or having a stunning outdoor space to enjoy a bottle of wine and great conversation with friends? Porches are the ideal places to sit outside and take in the fresh air. They're a beautiful and functional addition to your Georgia home. Whether you want a place to relax by yourself or entertain guests, porches are the best solution.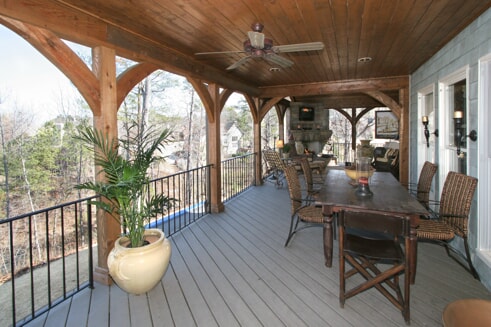 At Archadeck of Alpharetta, our team specializes in designing and building custom porches in Johns Creek and the surrounding areas. We make sure that your porch reflects your style and fits your home's existing architecture. We have a wide variety of porch designs and ideas for you to choose from—or tell us what you envision and we'll help bring it to life.
Our porches are known for their attractive appearance, functionality, and high-quality designs. Our expert full front porch builders in Johns Creek will work with you throughout the process. They will address any need you may have and ensure that your new porch will be stylish, comfortable, and unique to you.
Your Local Source for Custom Porch Installation, Design, & Construction
Archadeck of Alpharetta can design and install the perfect custom porch to transform your outdoor living space. Our experienced porch builders will work with you to design and build the perfect custom porch for your home.
We guarantee that your custom porch design will match your style and reflect your personality. All while seamlessly blending into your home's existing structures. Whether you want a fully screened porch to keep out the pests or an open concept porch to enjoy the scenery, our professional porch builderscan help! We even offer an all-season porch with windows so you can enjoy it all year long.
Looking for inspiration? Check out our FREE Design Guide or give us a call at (661) 388-9299 to schedule your complimentary design consultation!