Custom OUTDOOR PatioS in Reston
Inspiring Spaces from Hardscape & Patio Designers Near You
Are you making the best use of your Reston backyard with hardscaping or a custom-designed patio? At Archadeck of Northern Virginia West, we specialize in designing and building custom patios and other outdoor livings spaces that help beautify your home and make it unlike any other. In other words, we help homeowners make their houses truly unique. For most people, your home is the biggest investment you will ever make. Homes are an integral part of life, and you want your house to reflect your personal style so that it looks welcoming and truly feels like home. With custom hardscaping in Reston, like paver stones and retaining walls, and a beautiful patio featuring a fire pit, permanent grill station, or other elements, your backyard or property can truly fulfill its potential and become an extension of your home—perfect for quiet evenings with your family or entertaining and gathering with friends.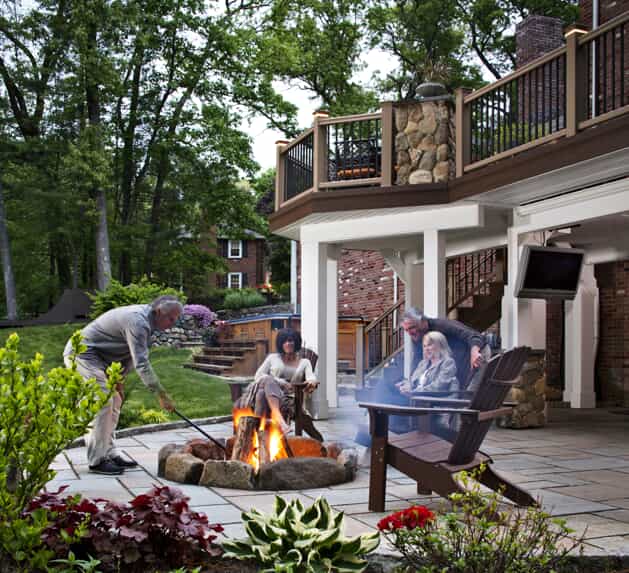 Many homeowners are beginning to invest in patios, decks, porches, and more to help liven up their yard and their home's exterior. Relaxing after a long day of work or entertaining guests on the weekends is easier and more enjoyable when you can walk outside and have the perfect outdoor living space at your disposal.
Our expert craftsmen at Archadeck of Northern Virginia West can design and build a custom patio for your home that suits all of your specific needs. We will work with you to create the perfect custom patio that you and your guests can enjoy all year long. We're the best choice for concrete patio builders near Reston, and the surrounding areas.
We can't wait to show you what we can do for your home. Schedule your complimentary deck design consultation today at (703) 386-7492!