Porch Builders in Reston
Waking up and eating breakfast out on your porch while enjoying the view outdoors is one of the most relaxing ways to spend your weekends. A custom porch in Reston offers a space for you to feel at ease and read a book or entertain guests, making it a lovely addition to your home.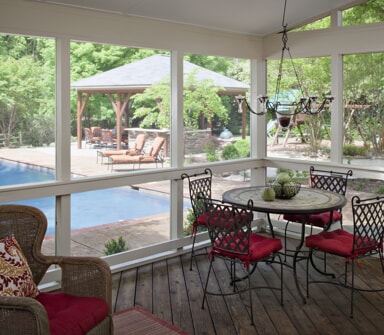 At Archadeck of Northern Virginia West, we specialize in designing and building beautiful custom porches for our customers in Reston and the surrounding areas. Whether you want a porch out front or one that wraps around your home, we can make it happen! We will work with you to build the outdoor living space of your dreams!
At Archadeck of Northern Virginia West, our custom porch designers can create a porch that blends in with the architecture of your home while also showing off your style. We have a variety of styles of porches, and our expert porch designers will work with you to design the perfect one that attends to all of your needs.
Our specialized open, covered, and screened porches are known for their attractive appearance, functionality, and high quality. Our expert team will design and build a porch that not only looks beautiful, but will also last and perform better, making us the best porch builders near Reston, VA.
Types of Custom Porches We Install
At Archadeck of Northern Virginia West, we have a variety of types of porches for you to choose from that will transform your outdoor living space completely. Our porch installation services can build a freestanding porch for an open design or a fully-screened porch that keeps bugs away. We even have all-season porches with windows, so you can sit outside and enjoy the view throughout the year. Whatever you want, we can build it!