Wood and HardWood Decks
Are you thinking about a pressure-treated wood or a Brazilian hardwood deck?
You have come to the correct place to read about options and considerations for your Central GA wood deck or porch. Here is some information to help you make your decision.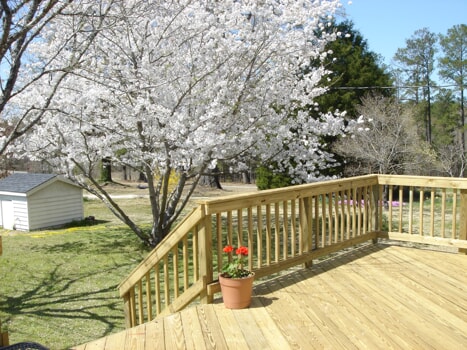 Wood can be considered low maintenance also
With all the talk about low-maintenance decking options, you may feel like those are the only options. This can't be farther from the truth. Wood is a great option for a couple key reasons. First, pressure-treated wood is a good bit more economical than low-maintenance composites. If you are considering a Brazilian hardwood such as Ipe or Garapa, unfortunately, those may be in the same general price range of using composite or PVC decking material. But just because wood is not in the low-maintenance category of composites, that doesn't mean it is high maintenance. Your pressure treated wood deck will require maintenance once every year; but if this is done you will be able to walk barefoot on your deck without fear of splinters. Your ipe wood deck won't have to be pressure washed, or sealed every year if you don't mind the grayed out look of genuine wood. Ipe is so dense that it ages much slower than pressure treated pine and may only require maintenance every four or five years.
It all begins with a complimentary design consultation, so give us a call today at (478) 241-8406 to get started.