Custom Deck Design & Construction in Richmond, Chesterfield, Glen Allen, and Central VA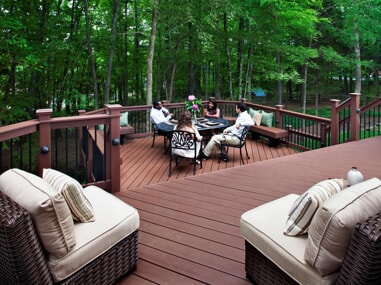 As a Richmond area homeowner, you know the beauty of Virginia and the joy of being outdoors in this stunning landscape. If you already own a deck that needs improvements or if you're considering adding a deck or patio to your home, let Archadeck of Richmond design and create a home-improvement project that exceeds your expectations. A well-planned out aesthetically-pleasing and sound outdoor deck will benefit you and your family in many wonderful ways.
Extend Your Living Area With a Custom Deck
Don't limit living and entertaining to the confines of the indoors. Get outside and enjoy the open air in the safety of your own home. Throw parties and host gatherings. Create a welcoming space to relax and enjoy a good book, excellent music, and the company of others. A deck can accomplish all this and more.
Increase Your Property Value
A deck addition or remodel can easily increase the value of your home, making it a smart investment. This home improvement often exceeds the value of other home remodeling projects, even projects such as an added bathroom or living room. The weather in Richmond, Chesterfield, and Glen Allen lends itself to an outdoor deck, making it a great space for friends and family in the spring, summer and fall months.
Enhance Your Home's Aesthetic Value
A professionally designed deck is a lovely enhancement to your home and a creative way to improve curb appeal. Innovative designs that mesh with your home's architecture and the natural wonders of the outdoors greatly increase the aesthetic worth of your home. This is where we shine at Archadeck of Richmond. We can design and construct a deck for your home that's just as unique as you are.
If you'd like to learn more, call today at (804) 373-4717 for your complimentary consultation!