Patio Builders in Richmond, VA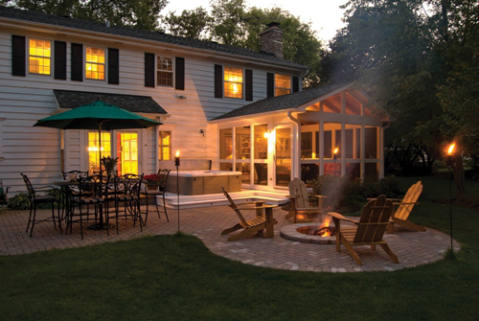 Most people enjoy transforming their homes into an expression of their own personal style. Homes serve as both a personal refuge and an integral part of the larger community. They provide not only shelter from the elements, but the opportunity to offer gracious and welcoming hospitality to loved ones, friends, and neighbors. At Archadeck of Richmond, we share our client's enthusiasm for making their homes truly unique. That's why we specialize in building custom patios and other outdoor living spaces that you and your guests will love all season long. We design and build custom patios in Richmond, Glen Allen, Chesterfield, Ashland, and Midlothian. If you're in search of the absolute best patio builders in Richmond and its neighboring counties, you've come to the right place.
Custom Patio Installation
Outdoor spaces have long been considered extensions of the home. Increasingly, people are customizing their outdoor spaces too with custom patios, porches, and sunrooms. Having a custom patio installed in your backyard can help you create a personal sanctuary that combines beauty, comfort, and functionality. Enjoying yourself, relaxing on a beautiful patio and watching the sunset after a hard day's work is a wonderful experience. Entertaining friends and neighbors on a custom designed patio with your unique style is equally satisfying. The custom patio builders at Archadeck of Richmond can help you achieve the patio of your dreams, and we'll ensure you'll enjoy the entire process.
At Archadeck of Richmond, we have design experience, skilled staff, and proven high-quality craftsmanship to transform your vision of a relaxing outdoor paradise into reality. We can design and construct a wide variety of patios for your outdoor spaces. We'll review a variety of materials and finishes with you that can be used in your custom hardscape or patio to showcase your personal style while complementing your existing architecture. Since there are so many options available, our designers can come up with a lot of creative concepts for your outdoor space while staying within your budget.
Custom Patio Covers
A covered patio lets you enjoy the outdoors all year round, from an environment that's comfortably protected from the elements. The patio builders at Archadeck of Richmond can design a patio cover that looks beautiful and compliments the existing structures in your backyard. We can design custom patio covers for your space that will revitalize your patio and impress your family and friends.
Whether it's a custom patio that reflects your love of gardening, an outdoor kitchen that reflects your love of cooking or space for enjoying a flickering fire in solitude, Archadeck of Richmond can design and build it.
It all begins with a complimentary design consultation, so give us a call today at (804) 373-4717 to get started.