Looking for a Kansas City area deck builder?
Choose Archadeck. We have been designing and building custom decks in the Kansas City market since 2001.
When you choose Archadeck, you are choosing an outdoor builder that has been building projects in the Kansas City market for many years. We've built outdoor projects in every shape, size, and configuration in so many neighborhoods throughout this area. Our decks are thoughtfully planned, custom-designed for each client and the way the wish to use them. Following, you will see deck building projects throughout the area.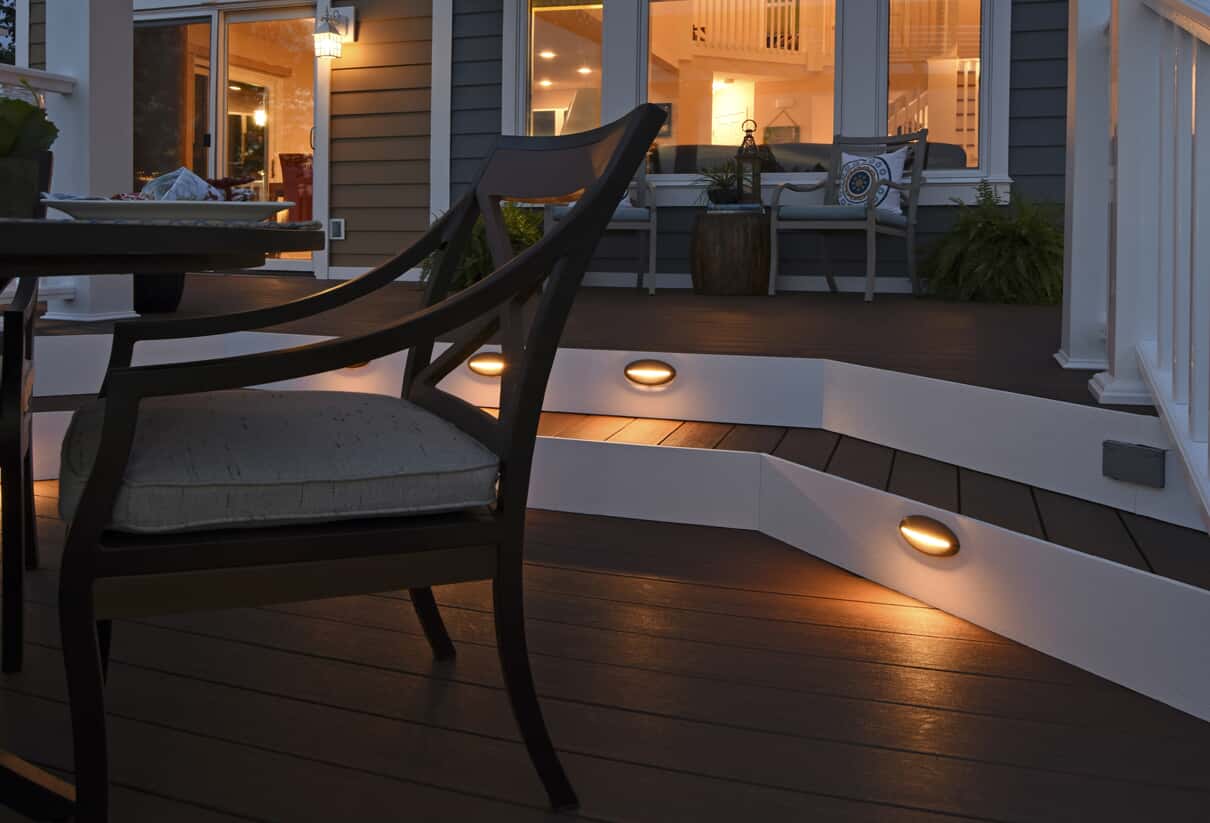 This composite deck in Olathe KS was constructed with all low-maintenance materials. This expansive deck features true wood-look decking by Fiberon in Ipe finish. Adding to the low-maintenance value of the space are the aluminum deck railings with low-profile stainless steel cable infill. The railing also allows for completely unobstructed views from on and off the deck.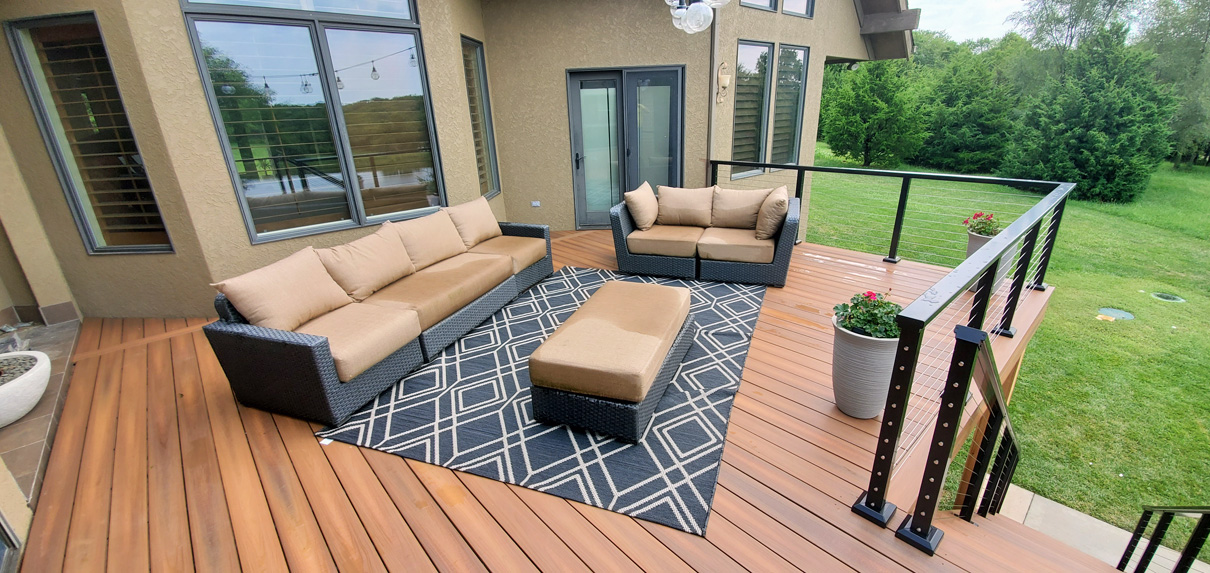 Custom deck design in Olathe KS by Archadeck of Kansas City
Just as your home is unique, your Archadeck outdoor living space will be unique to your home. At your design consultation, we explore the activities you are looking to enjoy outside, the number of people that will regularly be enjoying the new space and even help you consider how your pets will use your new space. Your Archadeck deck will be custom built just for you.
By way of our custom deck design consultation, your Archadeck Design Consultant will be able to discern your specific needs for a deck. This Lee's Summit deck is a testament to our customization capabilities. These clients wished for a low-maintenance deck, which would not require periodic maintenance. They also wished for partial sun protection, so Archadeck of Kansas City offered a custom corner pergola constructed of cedar. This deck also features an outdoor fireplace with TV storage built right in!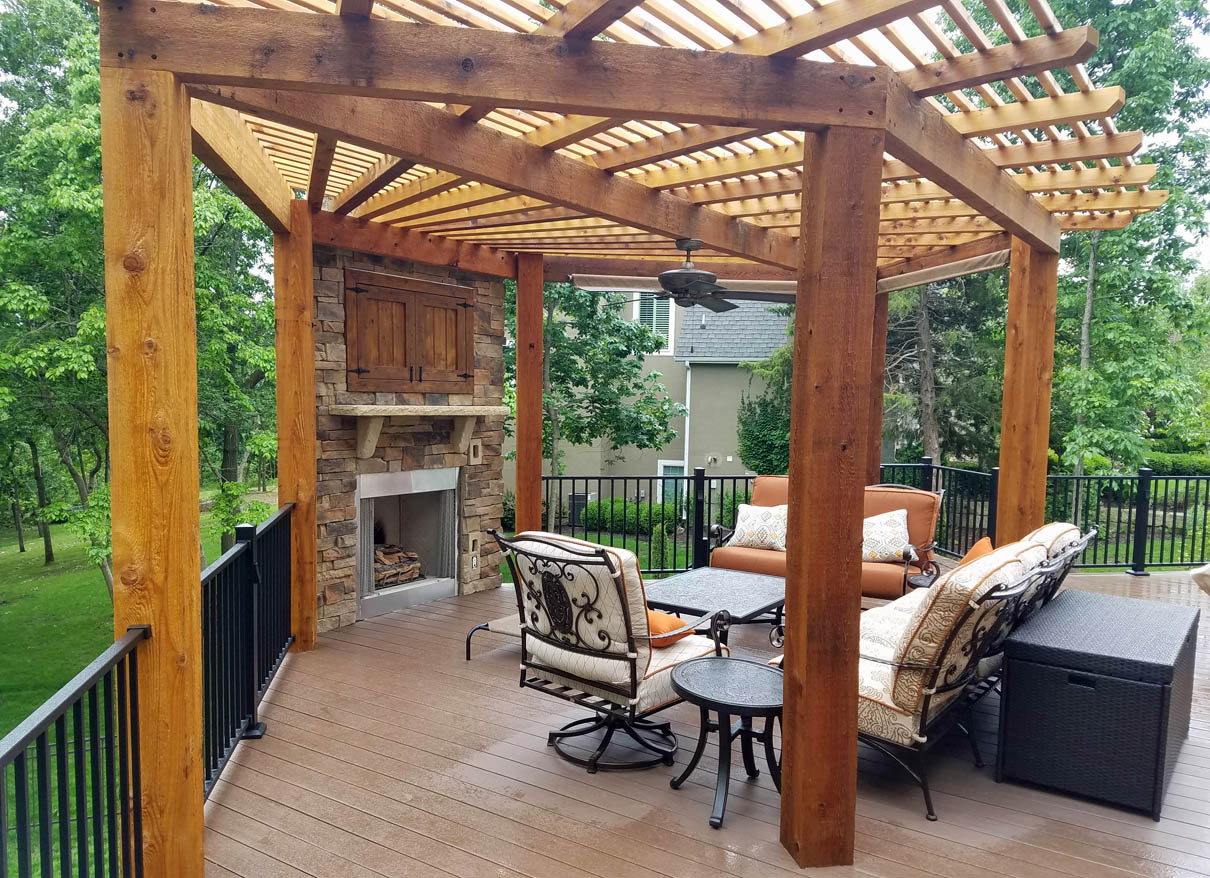 Lee's Summit MO deck design with cedar pergola and outdoor fireplace.
Parkville MO Deck Construction
This TimberTech composite deck in Parkville MO features an attractive two-tone installation. The composite decking, stair treads, and vertical deck skirting work in beautiful contrast to the white posts, stair risers, and trim. This Parkville composite deck is more than just a striking design, though! For ultimate usability, we installed LED riser lighting that will see this family and their guests safely up and down the stair after dark.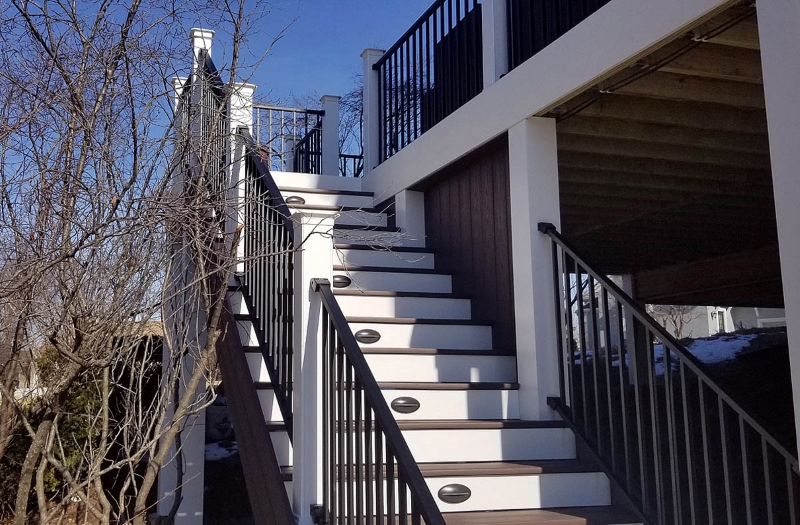 When considering building a new composite deck in the Kansas City area, many clients have a pre-conceived idea of their preferred color choice. While the color and aesthetic of your new deck are important considerations, your Archadeck Design Consultant will make additional recommendations pertaining to specific textures, patterns, board widths, and manufacturer warranties on your decking.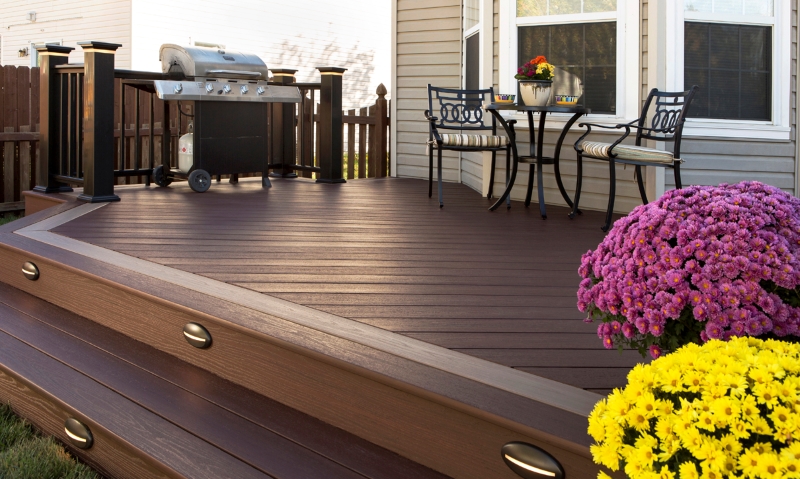 AZEK decking in Mountain Redwood with lighted stair
Ipe Hardwood, The Other Low-Maintenance Decking
Archadeck of Kansas City's clients overwhelmingly choose to invest their money in a low-maintenance composite deck. However, for those, who wish for the look and feel of real wood, we can design and build an Ipe Brazilian hardwood deck. The beauty of an Ipe deck is not simply in the finished aesthetic, but also in the fact that it can be considered a low-maintenance wood decking option. With a hardwood deck, you actually choose your preferred level of maintenance. You can choose to oil your Ipe deck every year or two, or you can allow your Ipe deck to age naturally. Should you wish to build a wood deck, Ipe is a great option!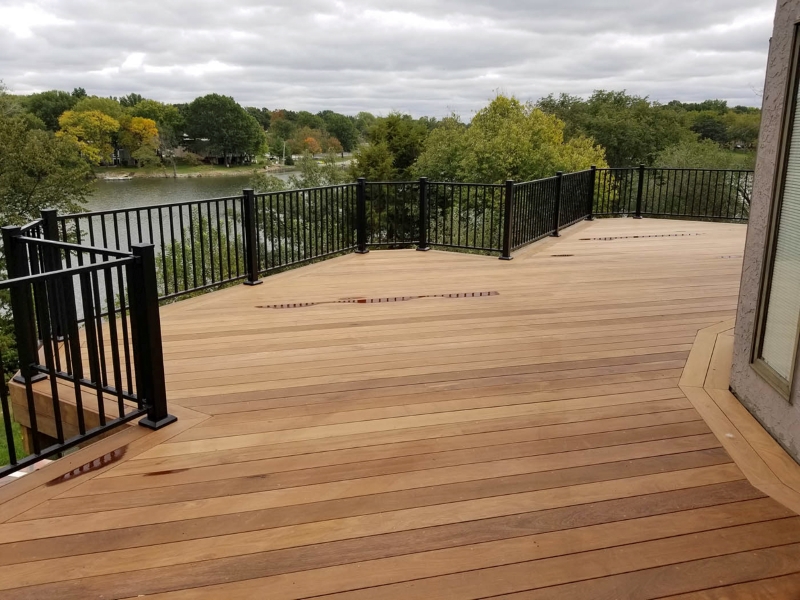 Ipe hardwood deck in Lee's Summit MO by Archadeck
More Than Just Low-Maintenance
Ipe is known for its strength, durability, and beauty. Because it's so dense, Ipe is virtually impervious to bugs eliminating the potential for bug damage. Water and sun are often the two biggest factors in aging wood. Ipe is so dense that very little water is absorbed so it does not have the regular expansion and contraction that other woods have. Ipe also has very little or no knots, which are weak points in wood. Its density also makes it less absorptive to mold, mildew, and stains than other common softer wood decking choices. A distinguishing characteristic of this Brazilian hardwood is the color variation and beautiful streaking patterns of this exotic hardwood. Below is a Kansas City area Ipe deck that has been oiled for protection and rich coloring.

Kansas City area Ipe hardwood deck design by Archadeck
Where do we design and build our custom Kansas City area decks? Our service area includes…
The following cities in Kansas: De Soto, Edwardsville, Kansas City, Lawrence, Leawood, Lenexa, Louisburg, Merriam, Mission, Mission Hills, Olathe, Overland Park, Prairie Village, Roeland Park, Shawnee Mission, Stanley, and more!
The following cities in Missouri: Blue Springs, Gladstone, Lake Lotawana, Lee's Summit, Parkville, Raytown, and more!