Building sunrooms and 3 & 4-season rooms in the Kansas City area since 2001.
As your trusted designer and builder of sunrooms and season rooms, Archadeck of Kansas City would like to walk you through the process of planning your ideal outdoor living space.
Your choice of a sunroom or 3 and 4-season room depends on many factors, but most importantly how you intend to use the space.
We custom tailor each sunroom to the exact specifications of our clients' needs. Archadeck of Kansas City will answer all your questions in the planning stages, and pose additional questions to you regarding your planned usage of the space, which will lead us to important design decisions. By "design" we do not mean how your space will be decorated, but rather the size, layout, and materials that will be used to build your space. With in-depth questions, we will arrive at the perfect outdoor living design for your specific needs.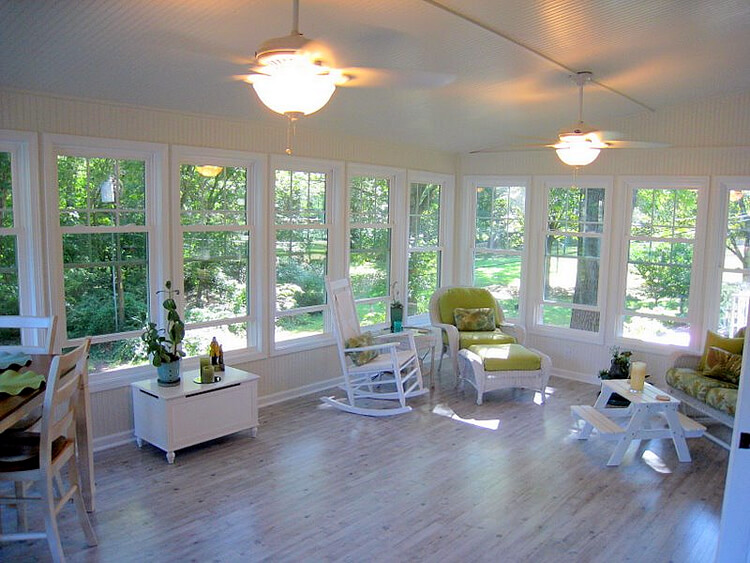 Leawood KS 3-season room with lots of windows and beautiful laminate flooring
Do you want to use your new room year-round, or only in milder months?
This very important question will help us decide if you require a 3-season room, or a complete sunroom addition.
The difference in the two? With a 3-season room, you will have windows, but no HVAC or insulation, which means if you want to use it in cool weather, you will need a space heater. With a space heater in a 3-season room, you could easily get 9 or 10 months of comfortable usage. With double-paned windows, you can get extended use of your new room, so your choice of windows for a 3-season room play a big role in usability.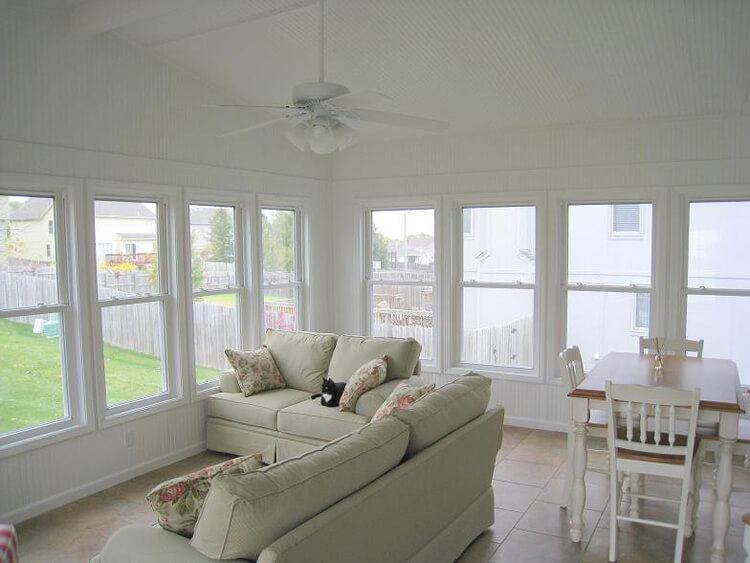 Let's face it, in the cool weather months, we long for sunshine to stave off the gloom. What better way to take in the sunlight than in a room that makes you forget that it's cold outside? Bright spaces, like this one, are sure to help! This clean design with comfortable furnishings and tile floor has the essence of an island getaway. Notice how there are two distinct areas for relaxing and eating.
Conversely, if you are planning to use your new room all year long, a sunroom will suit your needs.
Sunrooms are actual home additions, with walls of windows that offer sunlight even in cold weather. With a sunroom addition, you will have double-pane windows, complete room insulation, and many times, HVAC. While all of these things are costlier than a 3-season room or even a screened porch, you will be able to relax and entertain in your outdoor living space all year long, in complete comfort! Sunrooms are an obvious choice for year-round usage, and a wise investment for those, who long to have the feeling of being outdoors in cold weather months.
Ready to get started? Schedule your complimentary design consultation with our team today! Reach out to us at (913) 578-8990.