Pergola Installation Services in Western North Carolina
Transform Your Outdoor Space with Pergola Installation in Asheville, Hickory & Weaverville, NC
Pergola installations offer many benefits when it comes to adding beauty and functionality to your outdoor, mountain space. Pergolas provide shade from the sun while also providing shelter from rain or wind—all while creating an inviting atmosphere for gatherings with family and friends at your Western North Carolina home!
Upgrade your outdoors with a stunning new pergola! Dial (828) 481-9074 or contact us online for pergola installation near you today.
Custom Pergola Designs in Weaverville
At Archadeck of Western North Carolina, we're passionate about bringing your outdoor living space to life with a custom pergola that fully captures your vision. From the moment we begin the design process, our team of pergola builders works diligently to ensure that every detail reflects your unique style preferences and needs. We truly listen to your ideas, so we can create a plan tailored to your space's size, shape, and location.
We offer a variety of construction methods and materials including wood, vinyl, and aluminum. Whether you prefer a classic or contemporary design, our team will help you choose the perfect pergola design to enhance your enjoyment of the outdoors, while also providing expert pergola installation.
With so many options available, we're confident we can create the perfect pergola designs for your home's needs.
Why you should choose our Pergola Contractors:
Customized pergola designs.
The Archadeck Team has erected 135,000 structures over the course of its 40+ year history.
Archadeck's written warranty for workmanship of one-year and structural integrity of five years when Archadeck exerts control as your remodeling contractor.
Our positive reviews.
Our pergola installations have a clear job process methodology that ensures top-quality results.
Bring your vision to life with our pergola designs! Call us at (828) 481-9074 or contact us online to get started today!
Benefits of Pergola Installations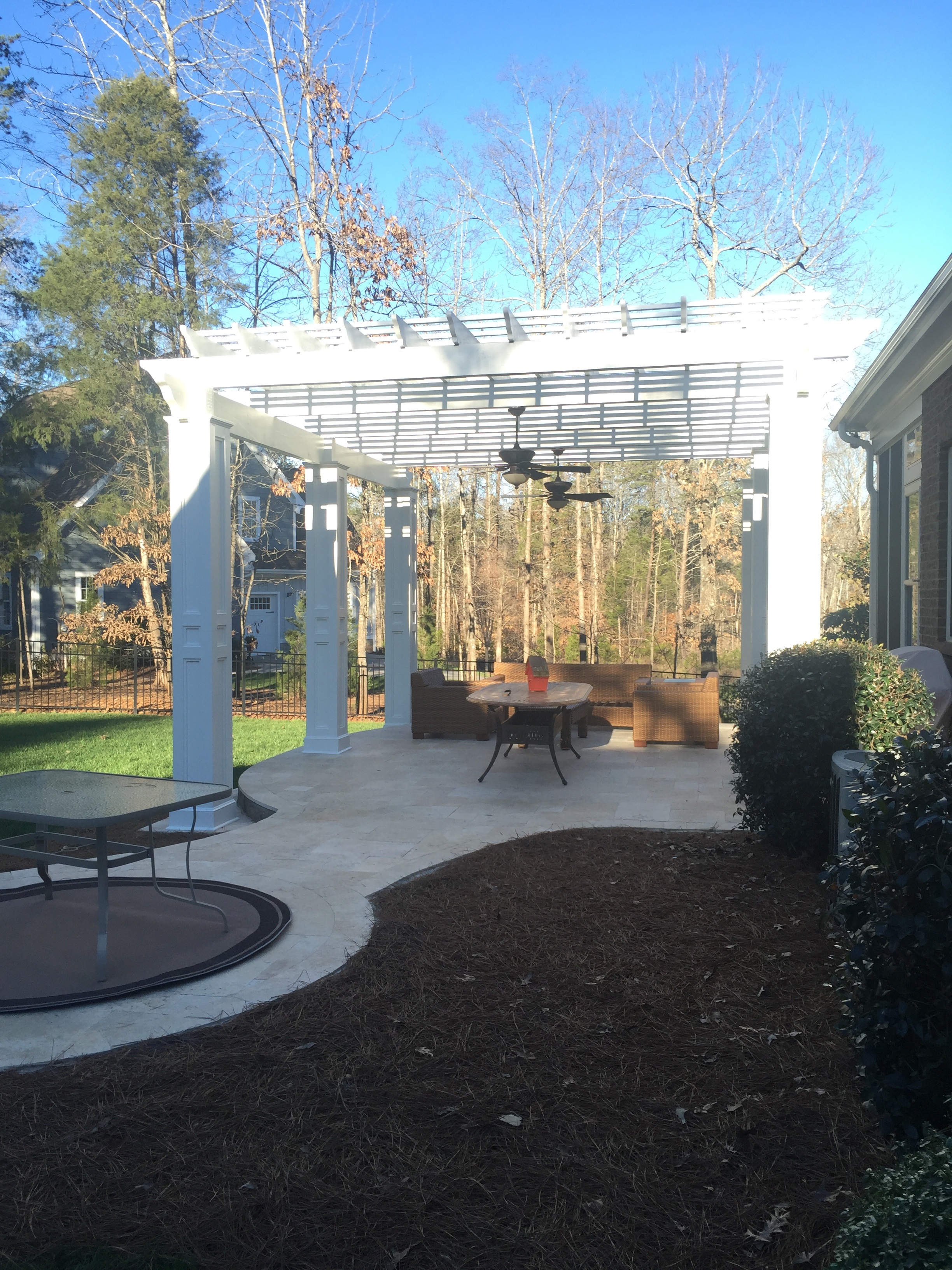 Pergolas give the outfit a fascinating, individual flair.
The pergola vertical lines add height and dimension to your deck.
Pergolas can be made to provide shade protection, privacy, and shade, and they can even be ornamented with lights to further enhance the beauty of your outdoor space.
Pergolas are strong enough to support an outdoor swing.
Frequently Asked Questions about Pergola Installations
How Long Does it Take to Install A Pergola?
The length of time it takes to install a pergola depends on several factors, such as the size and complexity of the design, the materials being used, and the overall location of the structure.
Building a porch can take several weeks, whereas a pergola can generally be completed in just a few days. Smaller pergolas can be constructed in as little as 1-2 days, while larger and more intricate designs may require 2-3 days of construction time.
Do I Need A Permit to Install A Pergola?
In the state of North Carolina, most counties require that homeowners obtain permits before starting any type of construction project. This includes building a pergola. You should check with your county's zoning office or Department of Planning and Development Services to learn more about the permit requirements in your area. The county may also require that you submit drawings and plans for the proposed structure before granting approval for the construction project.
When it comes to getting permits, it is important to note that some counties may exempt certain types of structures from the permitting process. For example, some counties may not require permits for small structures such as pergolas that are less than 100 square feet in size. However, this varies from county to county so you should always double-check with your local authority before beginning construction.
Does A Pergola Add Value To My Home?
In addition to providing shade and creating an outdoor living space, adding a pergola can also increase the value of your home. According to HomeAdvisor, installing a wooden or vinyl pergola can add up to 5% onto your home's resale value—a great return on investment!
Wooden structures tend to have the highest return rate compared with vinyl models because they offer more aesthetic appeal and last longer than other materials such as aluminum or steel. When considering what kind of material you want for your structure, think about how much maintenance you are willing to commit over time—wooden models require regular staining while vinyl models don't need any maintenance at all!
What is The Lifespan of Pergolas?
The lifespan of a pergola depends on the type of material you use to build it. Wood pergolas can last up to 15 years if they are properly maintained, while aluminum ones can last up to 20 years if they're well taken care of. Vinyl models are also popular because they require less maintenance than wood but can last just as long—up to 20 years—with proper care.
Have any questions whatsoever about our pergola installations? Call us at (828) 481-9074 or contact us here.