Deck Builders in weaverville, North carolina
Professional Deck Contractors Near You
With over 40 years of experience, Archadeck of Western North Carolina is your go-to deck building company! We specialize in deck design, deck construction, deck installation, and deck inspection. When it comes to designing your dream deck, the possibilities are endless. We offer many options like custom wood decks, multi-tier decks, wrap around decks, rooftop decks, and more! Our designers love a challenge, so if you can dream it, we can create it!
Don't shy away if you already have a deck in place, we can always build around it and incorporate new elements. We can even add cool features like outdoor kitchens, gazebos, pergolas, and more.
Deck Building Designed to Last
We know building a deck is an investment in both your home and your lifestyle. That's why we are dedicated to building structures that will stand the test of time so you can enjoy it for years to come. If you're searching for reliable, high quality deck construction in North Carolina, we are the deck company to call!
Dial (828) 481-9074 or contact us online to get in touch with one of the best deck companies near you!
Custom Deck Design & Construction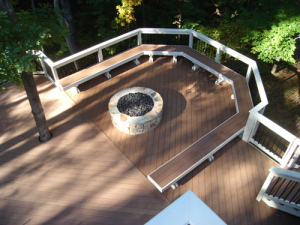 At Archadeck of Western North Carolina, our deck contractors are passionate about design, functionality, and quality. That's why our design process starts with understanding what you want out of your new deck. We can incorporate things like custom benches, bars, saunas, or even landscape lighting. We are also sure to clearly lay out your building material options so you can make an informed decision.
Of course, more expensive material will typically last the longest. For instance, a hard wood deck will have a higher initial cost, but when treated properly it can last for 40+ years. On the other hand, pressure treated wood has a lower initial cost, but has a life span of around 10-15 years.
Benefits of a Custom Deck
Get ready to upgrade your home's aesthetic appeal and functionality with a customized deck that offers various benefits for you and your family. From a unique look to enhanced usability, discover the benefits of having a custom deck designed for your home.
A custom deck can provide a variety of benefits including:
Expansion of living space
Increased property value
Enhance aesthetic appeal
Added functionality & versatility
Personalization
Contact our deck installers today to discover more about the numerous benefits of installing a customized deck in your home.
Experience the perfect blend of form & function with our custom decking! Call us at (828) 481-9074 or contact us online to discuss your options today!
How Much Does a Deck Cost?
On average, the cost of building a deck can range from $15 to $35 per square foot. High-end materials like exotic woods or up-scale composite materials could increase average cost to around $40 a square foot. There is no right or wrong when it comes to how you choose to build your deck, only preference. At Archadeck of Western North Carolina, our Weaverville deck contractors will sit with you and provide you will price estimates for your dream patio deck.
Materials that impact pricing include:
Composite materials
Pressure treated wood
Deck size
Complexity of the design
Custom lighting or seating fixtures
What To Know Before Building A Deck
Building a deck takes a lot of planning and decision making. To start, you will need to decide what size deck you'd like, establish your budget, select a material, and determine which builder is right for you.
Before you start planning, here are a few key things to consider:
Function & Purpose - Will you use your deck for entertaining? Do you want to incorporate a pool or spa? What about a container garden?
Ideal Deck Location - Identifying where you want your deck is important. Are you maximizing views or seeking privacy? It's also important to consider things like wind patterns, shade, and tree placement.
Budget - We hate to say it, but this is an important one. Be sure to consider the cost of hiring a professional, acquiring permits, and incorporating any extra like flowerboxes, railings, or built in seating.
Deck Material Options - The top 5 deck material options are pressure treated woods, premium hardwoods, composite decking, plastic plank decking, and aluminum decking. Each of these come with its own set of pros and cons, be sure to do your research.
Deck Lighting - It's nice to be able to enjoy your deck at any time. Incorporating path lights, recessed step lights, and outdoor kitchen lights can really elevate your experience.
Building Codes - It's important to call your local town hall to learn more about the building codes in your area. You may need your design approved by your town before you can get started.
Our team of deck experts in Western NC is here to help you through every step of the deck building process. We want you to feel comfortable and empowered by your experience. Don't hesitate to contact us for a consultation today!
Elevate your Outdoor Space with Composite Decking
Looking for composite decking near you? Look no further! At Archadeck of Western North Carolina, we provide composite decking services that provide homeowners with an innovative solution to elevate their outdoor space. Composite decking is an excellent solution for those seeking a low-maintenance and long-lasting option.
Composite decking is resistant to fading, staining, and mold growth, making it low maintenance and easy to clean. It's also slip-resistant, making it safe for families with children and pets. Our deck designers will work with you to create a custom composite deck that matches your unique style and meets your needs, providing you with a space you'll love for years to come!
From concept to completion, we'll build you a deck that exceeds your expectations! Call our deck builders at (828) 481-9074 or contact us online to get started today!