Patios & Hardscapes in Fairview, WV
Revitalize Your Yard with Stunning Hardscape Features
Archadeck of Southwest PA & Pittsburgh constructs state-of-the-art outdoor patios, hardscapes, and decks. Our design team will help create a beautiful and durable outdoor structure. We will go above and beyond to customize each element to complement your vision and property.
Our local patio builders are backed by positive reviews and we offer some of the best guarantees in the industry. We're also pleased to offer financing to help get your project going.
Dreaming of a gorgeous new patio and hardscape? Call us at (724) 401-4251 to request your complimentary consultation. We warranty our services.
Trust Our Patio & Hardscape Builders With Your Project
Our team is committed to designing and installing top-of-the-line:
Decks & Patios – Looking to add functional outdoor space for dining, lounging, and enjoying some fresh air? We build deck and patio flooring using pressure-treated wood, composite, and vinyl.
Paver flooring – If you prefer stone over concrete and wood, we can install pavers instead.
Concrete flooring - Concrete flooring is a popular choice for patios. Our stamp and brick concrete options come in many styles and colors.
Fire Pits – A wood-burning or gas-powered fire pit can provide a brilliant glow. Dazzle friends, family, and guests at night by building a gorgeous fire pit today!
Fountains & Ponds – Let us construct an oasis in your backyard! We have the tools and skills to build water fountains, ponds, and more!
Schedule your complimentary consultation by reaching out online or by dialing (724) 401-4251. Let our patio builders near you turn your home into an oasis.
Deck & Patio Roofing Services
Our certified, experienced, and highly trained contractors can also build industry-best overhead structures over your patio or deck. We will help you determine the roofing style that perfectly suits your property's architectural style.
Popular roofing styles we can construct include:
Hip roofs – A hip roof consists solely of sloped sides with no vertical ends. This design offers tremendous stability.
Shed roofs – Shed roofs have a slope down one side. We can adjust the slope's steepness to accommodate water runoff and satisfy your aesthetic vision.
Flat roofs – As the name suggests, a flat roof offers zero sloped sides. A uniformly level patio cover looks stunning but can lead to issues during heavy rains if not built adequately.
Gable roofs – This roofing has slopes on two sides to safely drain water and snow away from your patio and home.
Boost Your Value & Curb Appeal with a Custom Patio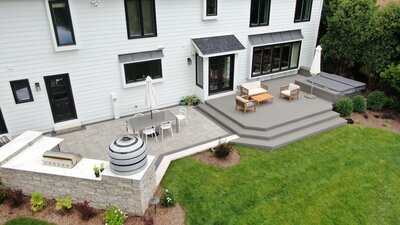 Our goal is to boost your property's curbside appeal and increase its outdoor ambiance by adding value and functionality.
A new roof, patio, or deck can significantly increase your home's real estate value – providing a remarkable return on your investment (ROI).
Let our team ensure you make the most out of every cent you spend. We offer elite craftsmanship, premium materials, and unrivaled service guarantees.
To book your free consultation, call (724) 401-4251 or reach out anytime!