Deck Builders in Fairmont, VA
Deck Contractors Serving Southwest PA & Pittsburgh
Are you looking to upgrade your yard? Why not hire an expert deck contractor to create a stunning outdoor space for you, your friends, and your family. At Archadeck of Southwest PA & Pittsburgh, we're ready to build your ideal deck.
We will deliver friendly customer service from start to finish and eye-catching results. Our design team will help you determine the perfect materials to match your architecture and desired ambiance. Need some ideas to get you started? Request your free design guide!
Our Fairmont deck contractors will then utilize industry-leading tools and techniques to create a stunning structure. Check out our deck photos to see examples of our work!
It all starts with booking your complimentary consultation. Give us a call at (724) 401-4251 or reach out online. We look forward to serving you!
The Benefits of Building a New Deck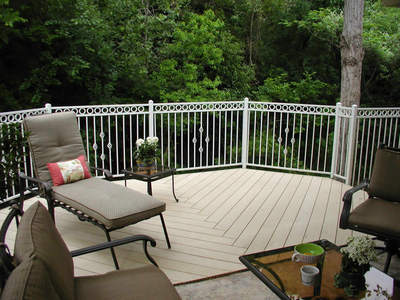 A deck can offer both aesthetic and functional benefits. It is a wise solution for homeowners looking to add square footage and create a space for lounging, sunbathing, and socializing!
Notable upsides of a building a brand-new outdoor deck include:
Significantly enhancing your property's visual style and curbside appeal
Providing an extra area to enjoy everyday activities
Substantially boosting your property's value
Receiving a handsome return on investment.
Why Choose Archadeck of Southwest PA & Pittsburgh?
Are you looking for a deck that is uniquely your own? You've come to the right place! From our design team to our warranties, we're a Fairmont decking company you can trust.
Best-in-Class Deck Designs
Most deck builders just build decks. We offer a full-service solution from start to finish. At Archadeck of Southwest PA & Pittsburgh, we don't just build decks. We help design and customize your ideal deck to fit your needs.
Our deck design team has direct access to an extensive inventory of top-notch products and materials. We understand that finalizing your vision can be daunting.
Fortunately, our design experts will be there to guide you with professional suggestions. We will go above and beyond to remain attentive to your ambitions. And we personalize our services to accommodate your specific needs.
We Offer Financing Options
To help you get started on your new deck, we offer financing options. Check out our financing page to learn more.
We're Locally Owned & Operated
Archadeck of Southwest PA & Pittsburgh is locally owned and operated right here in Fairmont. We're also backed by a dependable franchise network with more than 40 years of successful deck building to its name.
This support system allows us to offer top-of-the-line products at affordable prices. Our contractors utilize cutting-edge technologies and best-in-class resources to ensure unrivaled results.
We Warranty Our Decks!
We are confident in the meticulous workmanship of our licensed and certified contractors. So much so that we offer dependable warranties on every single service. Our top priority is your complete satisfaction!
Want to learn more about our deck services? Call us at (724) 401-4251 or contact us online!