Hardscapes & Patio Installation n Philadelphia
Custom Patio Builders Near You
Having a comfortable outdoor space to relax in at the end of the day is a luxury everyone should enjoy. Not only does it get you out in the fresh air more often. It also provides a convenient spot for gathering with friends and family. And when you personalize the space to suit your exact needs, it's even more enticing.
At Archadeck of Northwest Philadelphia, we proudly provide professional design & quality building services. We help homeowners make the most of their property with custom patios and hardscapes fit for all lifestyles.
Contact us online or call (484) 665-8010 for custom hardscape and patio installation near Philadelphia.
Planning for Your Patio
Say you want to create an entire living-space outside, complete with a kitchen, fireplace, two levels, and a balcony. It's no problem for our team of experts! Or, if you'd rather have a cozy patio fit with plush chairs surrounding a simple fire pit, we're on it. Our team at Archadeck of Northwest Philadelphia is here to help you plan your dream patio and hardscape layout.
We're eager to hear your ideas, share some of our own to highlight the best features in your yard, and then create a unique design. We'll take into account your budget, design trends and styles, your desired patio size. We take these and other various factors to ensure that the perfect patio is created for your home. Our design consultations are complimentary. They are explicitly meant for us to learn about what you're looking for and so you can see the results we produce.
Patios Built to Last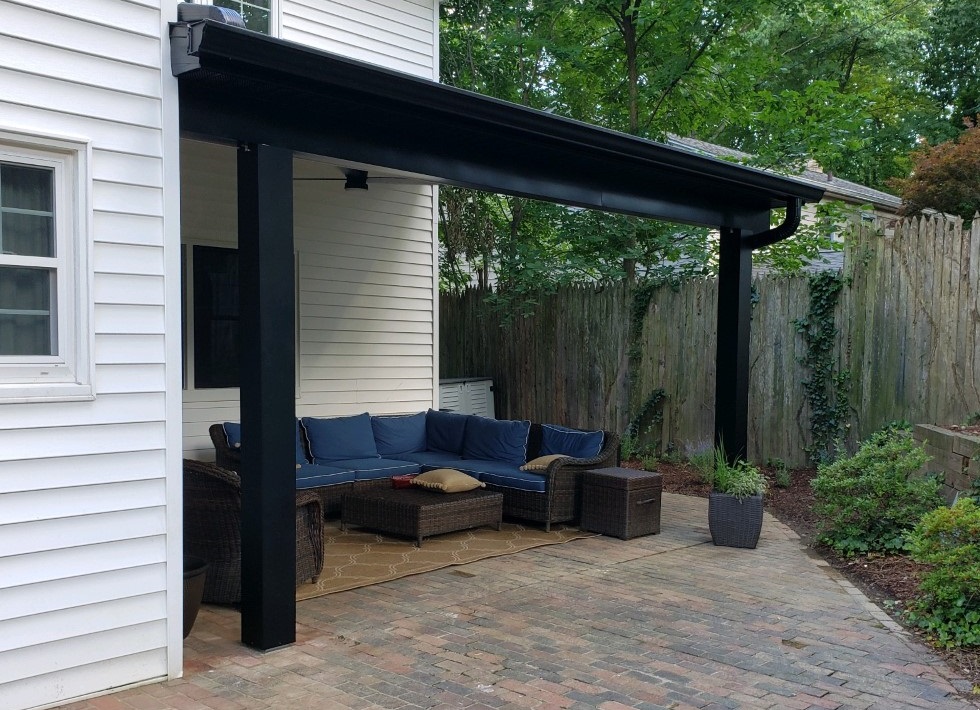 Our team goes through rigorous specialty training on safety. This is to ensure that they can safely build beautiful patios and install hardscape features. Our builders become certified as official installers to ensure we provide products that last. We maintain a substantial amount of liability coverage and carry insurance for your peace of mind. We have you covered (even literally if you want a pergola or screened-in space). Not to mention we offer quality and structural warranties – when you work with Archadeck, there's no need to worry. Don't want to take our word for it? See our reviews!
Let us help you transform your garden with beautiful hardscape design. Get started by calling (484) 665-8010 or view our design guide now!
Frequently Asked Patio & Hardscape Questions
What is Hardscape Landscaping?
Hardscape landscaping refers to man-made, usually hard-surface aspects of landscaping such as stone paths, walls and fences, along with structures such as patios, gazebos and pergolas.
How Much Do Patio and Hardscapes Cost?
The price of porches and hardscapes vary depending on which type of patio or hardscape you're interested in. Are you looking to build an open or a screened porch? It's also important to take into account the materials, size of the porch, and other factors as well. We back our services with the best warranties in the industry. This is so that you can rest assured knowing that you'll enjoy the porch of your dreams.
Why Should I Install a Patio?
There are plenty of reasons you should install a patio into your home aside from adding more usable living space. A patio will also help in increasing the value of your home by increasing the curb appeal! The new relaxing outdoor space will be appealing to future buyers. Patios and hardscapes can also add to and compliment the design of your home, refreshing your home itself. Looking to learn more about installing patios? Contact
Archadeck of Northwest Philadelphia
today!
To learn more or schedule a consultation for patios and hardscapes in Philadelphia, call our friendly and knowledgeable team today at (484) 665-8010.