Custom Deck BUILDERS in Philadelphia
Deck Design and Installation Services Near You
Transform your backyard into the ideal environment for relaxing and entertaining. Truly enjoy the outdoors with a custom deck by Archadeck of Northwest Philadelphia. Having a new, custom deck is an investment you'd benefit from now and in the future.
Our Philadelphia deck builders warranty our work for your peace of mind. In fact, we have some of the best guarantees in the industry. We take the time to go through the design and build process so your deck amazes, lasts, and is safe for years. We also offer financing options to help you get started. Contact us to learn how our best deck builders and repair contractors near you can help improve your outdoor living space today!
Get started today by booking your complimentary consultation by dialing (484) 665-8010. Our deck builders in Philadelphia look forward to serving you!
What Are the Benefits of Having a New Deck?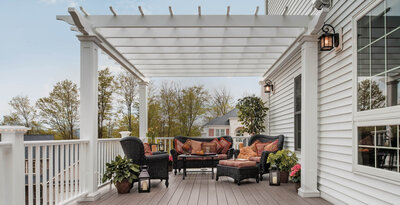 A new deck is an amazing way to improve the curb appeal and aesthetic of your home. On a crisp, sunny morning, there's nothing quite like sipping coffee on a new, beautiful deck.
Not only will you benefit from having a more aesthetic space, but you'll also love how a deck:
Increases the square footage of your property
Creates additional space for your enjoyment
Improves the value of your home
Adds functionality to your backyard
Provides more reason to get outside in the fresh air
Offers better space for your outdoor furniture, plants, and grills
When Should My Deck Be Replaced?
There are a few signs that indicate it's time for a new deck. Ultimately, decks should be safe so assessing those risk factors will be a determining factor.
When deciding on when to replace your deck, look for:
Rotted wood. Rotted wood can compromise your deck's stability and safety. Wood rot is distinguished by wood that is falling apart or crumbling.
Ledger board is falling apart. Your deck's ledger board is what attaches the deck to the side of your home. A damaged ledger board could result in damaging the whole deck.
Serious damage. Loose screws and nails or small cracks are signs of wear and tear. Usually, we can repair those. But serious damage, like holes or rot from termites, compromise the deck's integrity. Depending on the severity of such damage, it may be time for a new deck.
Do I Need a Permit to Build a Deck in Philadelphia?
According to the Department of Licenses and Inspections, homeowners need to obtain a permit to build a deck. A permit ensures the new addition to your property is safe and complies with city codes.
You can obtain a permit for a deck without submitting plans to verify the legitimacy of your proposed project if you meet the following conditions:
The deck will be attached to an existing single-family dwelling
The deck will not be more than 261 square feet
The deck will not be higher than the first floor
The deck will only be in the backyard
The area below the deck will not be enclosed
The deck will not be equipped with walls, stairs or a roof
There must be a minimum distance of 3' - 0" between the deck and the rear property line or common driveway
If within 4' - 6" of the common driveway, the support columns must have a 1' - 6" minimum to a 2' - 0" maximum of clearance
The deck will not block vehicle access to a garage
There must be at least 6' - 0" of clearance between the lowest horizontal support beam and the driveway surface
The door to the deck will be installed in an existing opening
The deck will not extend beyond the building line
If you deviate from any of these conditions, you will be required to submit plans to the Department with your permit applications.
If you need a new deck, be sure to hire reputable, honest, and licensed deck builders. New decks require proper planning, permits, and adherence to codes and regulations here in Philadelphia.
At Archadeck of Northwest Philadelphia, we'll handle the whole process for you. And we're backed by a national brand with over 40 years of experience in the deck building industry. You can trust us to build a new deck that you'll love and that's safe.
Not sure if you need a new deck? We'd be happy to come out for a complimentary consultation. Request yours today online or call us at (484) 665-8010.
The Types of Decks We Build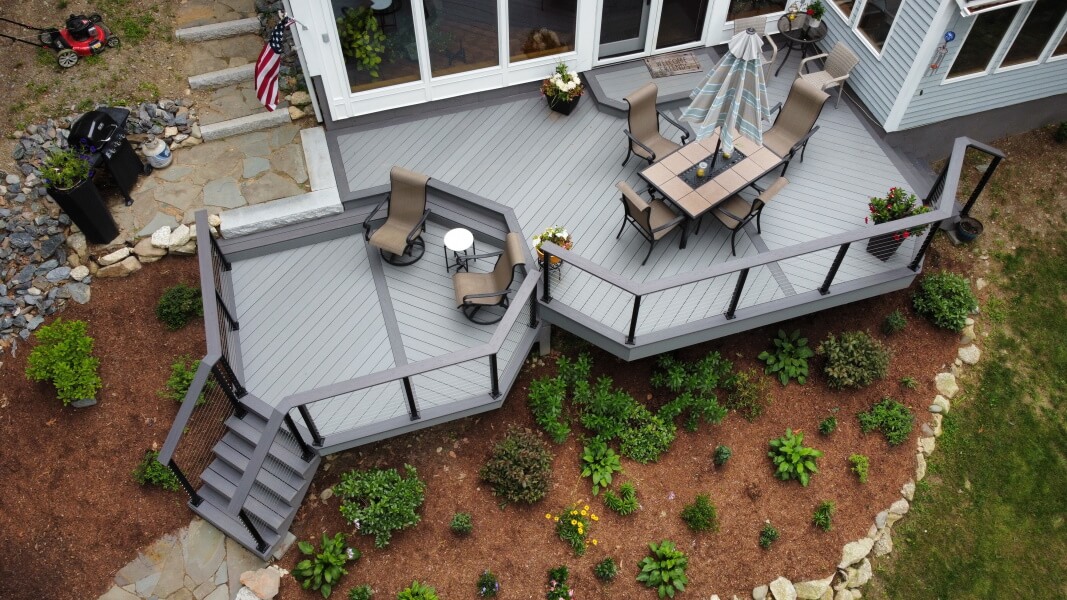 Our deck builders in Philadelphia are able to work with various decking materials to fit your preference and budget. We offer design and installation for the following types of decks:
Low-Maintenance & Composite Decks - These decks resist cracking, splitting, and warping. They also do not require sealing or staining. Regular cleaning is the majority of maintenance for these decks.
Wood Decks - Wood is the traditional choice when it comes to deck building. Our preferred types of wood include cedar, southern pine, redwood, and Brazilian hardwood.
Multi-Level Decks - A multi-level deck is a deck that is designed on several levels; the most common occupies two different levels, while some multi-level decks can occupy three or more. There are several benefits to choosing a multi-level deck over a single-level deck: It allows the deck to flow more seamlessly with the landscape of your yard, and it allows you to have more defined zones or spaces within your outdoor area. Looking for some multi-level deck ideas? Check out our photo gallery!
Get started today with a complimentary consultation from our talented Philadelphia deck builders. Call (484) 665-8010 or reach out to us online!