Looking for a Kansas City area patio builder?
Archadeck of Kansas City has been designing and building custom outdoor living spaces since 2001. We can help you achieve your ideal patio design.
Patios are wonderfully flexible outdoor living areas, which offer our Kansas City are clients a myriad of usage options. When you work with Archadeck of Kansas City to create your custom patio design, rest assured that it will be a space that serves all your outdoor living requirements. From shape and size to budget and materials, and on to upgraded amenities, your Kansas City area patio will be tailored to your every need.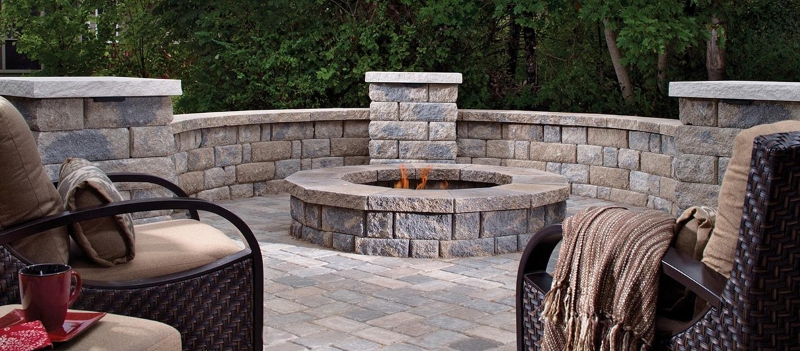 Choose Archadeck to design and build your custom Kansas City area patio.
Archadeck custom patio designs are often paired with composite decks. The outdoor living design below illustrates how Archadeck of Kansas City can help you optimize the function of your backyard. If your main living level is on the second floor, an elevated deck is an ideal solution, which will allow for ease of use of your outdoor living space without having to move between the living and ground levels. But what if you wish to utilize the ground level too?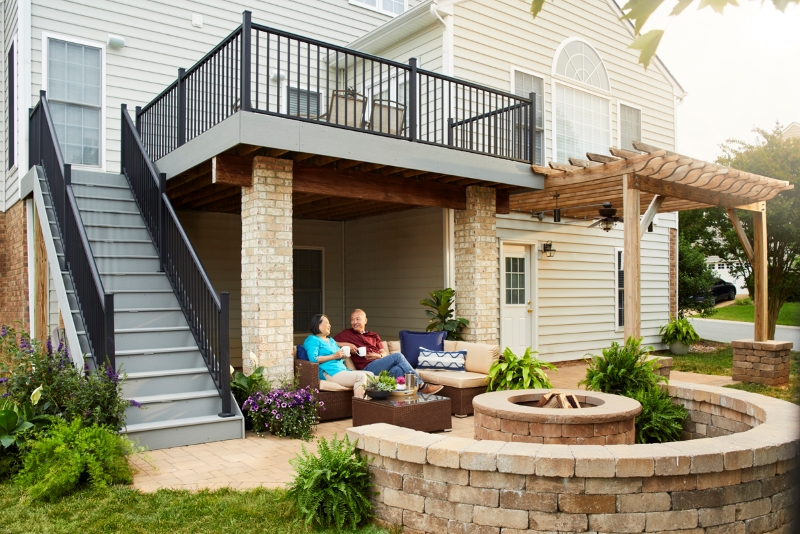 Custom patios and decks are ideal combinations.
Adding a paver patio below will offer more use of the backyard, with the deck naturally creating a covered walk-out patio nook. Extending the patio beyond the deck will provide an expansive space for outdoor relaxing and entertaining, complete with a vertical hardscape wall for lots of seating around the cozy fire pit. And finally, a pergola addition at the opposite end of the patio will offer a space of partial sun protection when it is necessary to seek respite from direct sunlight. This outdoor living space is great for use in warm weather and cool weather seasons.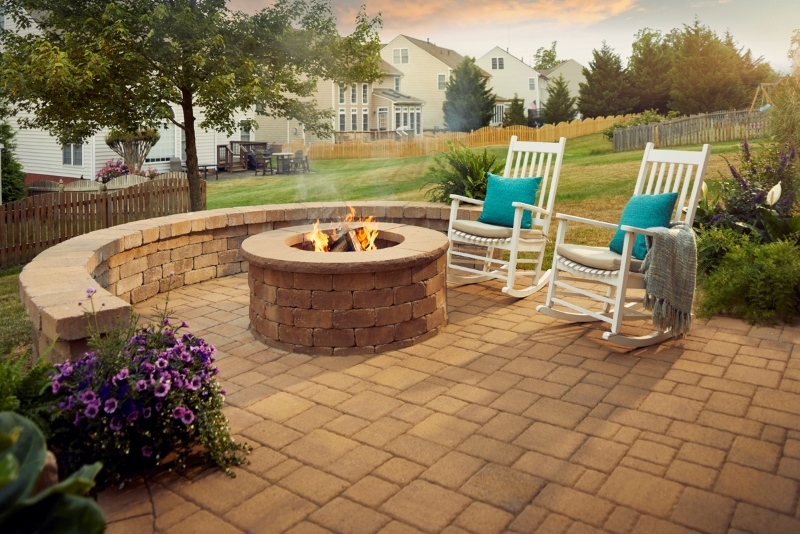 Choose Archadeck to create an ultimately usable Kansas City area patio.
When it comes to escaping harsh sunlight and heat on your Kansas City area patio, a pergola will provide a level of protection. However, if you want full protection for sun and rain, a roof is the solution you seek. What's more, the Design Consultants at Archadeck of Kansas City can help you design a patio, which offers both open-air outdoor living enjoyment and full protection from the weather – a patio with the best of both worlds!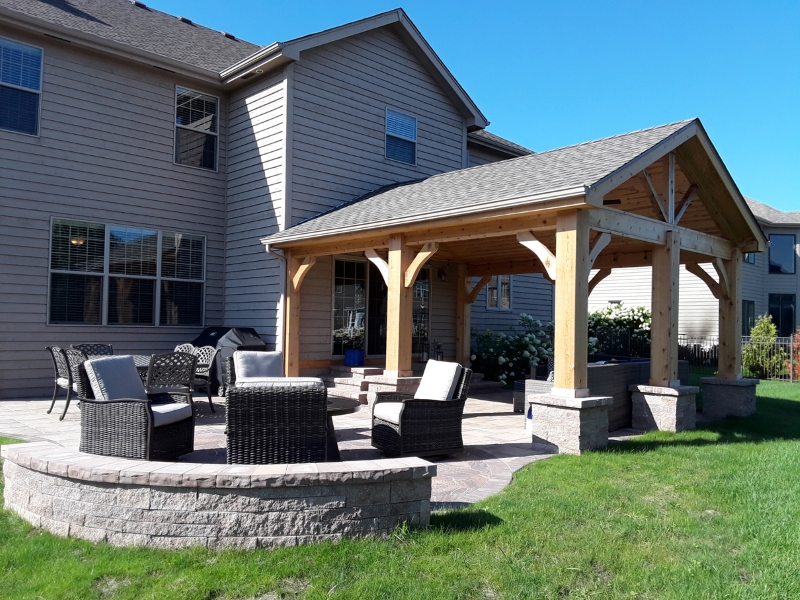 Expansive patio design with open and roof-covered living spaces.
What are your patio materials options?
Archadeck of Kansas City is pleased to offer many options in patio building materials. Manmade pavers have become highly sought after for their many colors, shapes, sizes, and durability, as well as their ease of installation and maintenance. However, there is still something to be said for natural stone patio materials. Their organic irregularities in shape and their color variations can create a patio with tons of visual interest. However, if you wish to achieve the look of natural flagstone without the added cost of natural stone materials, a stamp and stain concrete patio can be an ideal solution. The patio below illustrates just one iteration of our stamp and stain patio options.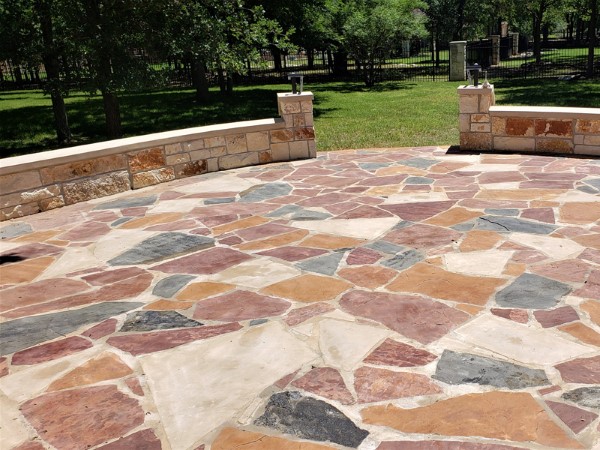 Stamped concrete patio has the look of natural flagstone.
Archadeck of Kansas City, a Patio Builder Near You, a Name You Can Trust
Archadeck of Kansas City is a trusted name in outdoor design and building since 2001. If you are looking for a reputable patio contractor near me in the Kansas City market, we hope that you will consider us for your patio construction project!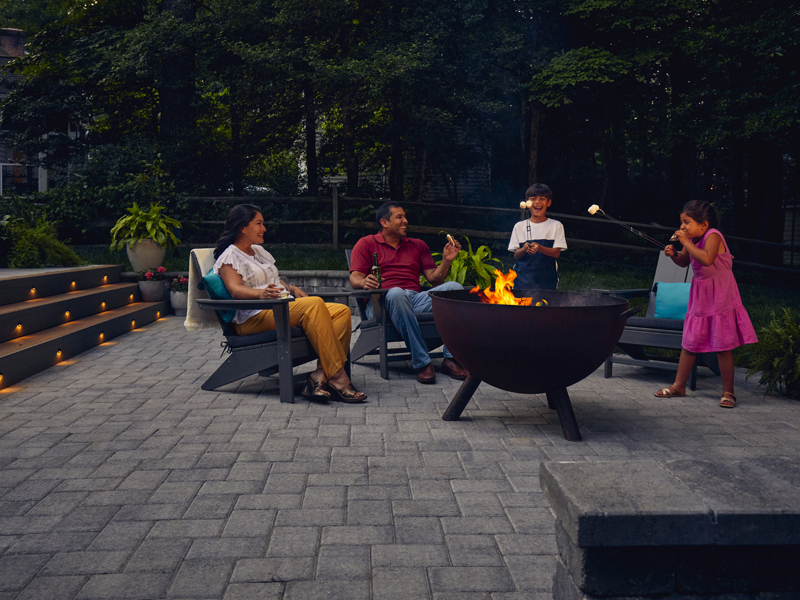 Trust Archadeck to build your ideal Kansas City area patio design.
Angi Super Service Award Winner ever year since 2009!
We have received the Angi Super Service Award in 2007, 2009, 2010, 2011, 2012, 2013, 2014, 2015, 2016, 2017, 2018, 2019, 2020, and 2021! Read our reviews on Angi.com.
Google Rating and Reviews
We have a near-perfect Google rating, with many local client reviews! Find our Google reviews here.
Houzz Rating and Reviews
We maintain a 5-star rating with glowing client reviews on Houzz. See our reviews here.
BBB Rating and Reviews
With an A+ rating by the Better Business Bureau, you can count on Archadeck of Kansas City to provide top-notch outdoor living building services. We are a name you can trust and one that you will recommend to family and friends.
Ready to build a custom Kanas City area patio with Archadeck of Kansas City? Give us a call today at (913) 851-3325 to schedule a complimentary design consultation.