Patio Builders in Tigard, OR
Beautiful, Functional Patio Design & Hardscaping Near You
Wouldn't it be nice to have a beautifully designed hardscape patio customized to your yard and your preferences? Where you could relax and enjoy the great outdoors? Creating a perfect space that delivers the tranquility, peace, and relaxation you crave after a hard day's work can seem like a challenge at times. Hardscapes and patios let homeowners access flexible and versatile spaces from the comfort of their home. providing the ideal location for family dinners, friendly get-togethers, and even quiet contemplation.
Once little more than boring slabs of concrete, patio design in Tigard has come a long way. Now it incorporates design elements of the home for an outdoor space suited to the needs of a homeowner. Ranging all the way from outdoor kitchens and bars to fire pits and retaining walls. We can help incorporate everything you need for relaxing outdoors. The patio design experts at Archadeck of West Portland can help with your hardscape ideas. We're here to help make your perfect space a reality.
Request a consultation with our expert patio and hardscape design team in Tigard and nearby areas! Call (503) 683-8989 or contact us online today.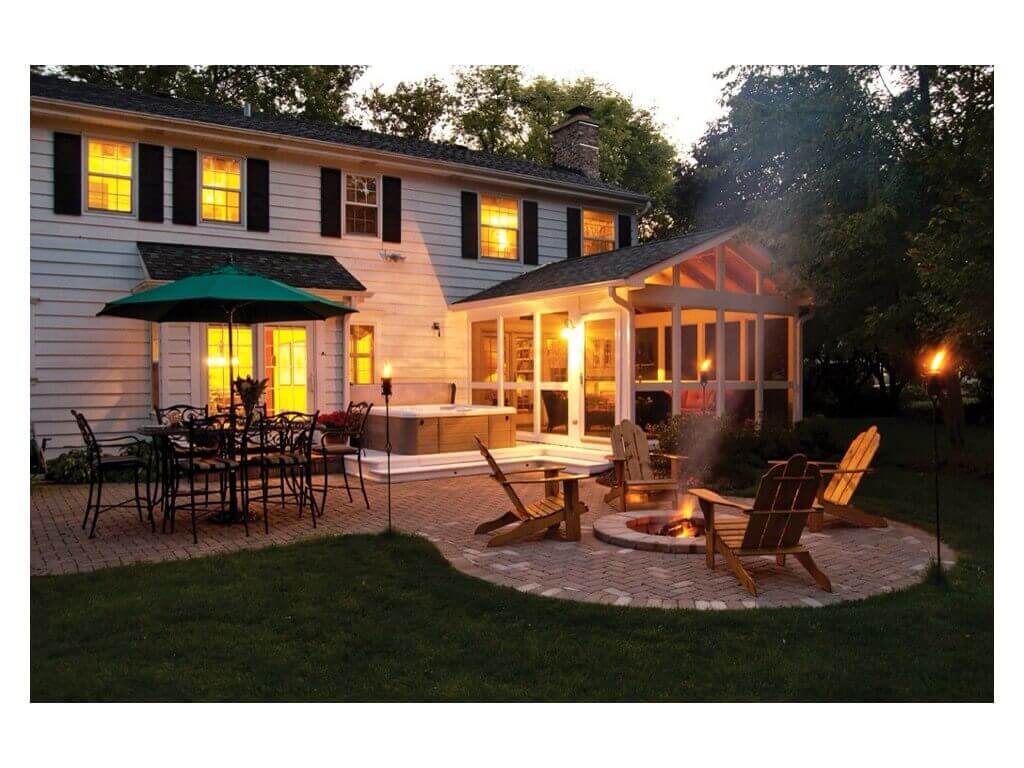 Custom Patio Installation and Hardscaping Services in Portland
Archadeck of West Portland has the skill and experience to craft your outdoor space. We use various finishes and texture to make sure that you receive a finished product that doesn't only complement your property. It will also makes your dreams a reality. There are so many different types of material available for use on the market today when it comes to hardscape and patio creation. Because of this, designers have flexibility to work with a space in the most imaginative way possible. They're able to offer complete satisfaction within the confines of a budget.
Get our free Design Guide packed with inspiration, or review our FAQ page for more information about our process!
What Is a Hardscape Patio?
In the simplest terms, a patio is an outdoor recreation or dining space, usually paved. Patios are typically constructed of concrete, stone, pavers, or other hard and permanent materials. These are commonly referred to as hardscape. However, patios are not the only kind of hardscaping.
Some of the other structures that can also be considered hardscaping include:
Water features
Retaining walls
Stone walkways
Steps or stairways
Fire pits
Outdoor fireplaces
Often, a hardscape patio will incorporate one or more of these features into the design, as well. This is to create beautiful, functional, multipurpose space the whole family can enjoy for years to come. Our concrete patio installers near you will help you create a space perfectly suited to your use.
Why Choose Archadeck of West Portland for Custom Patio and Hardscape Design in Tigard?
Not only are the initial designs and materials unique and beautiful. Our designers and builders also work together to make a truly one-of-a-kind space. Whether we're simply adding a stain to accentuate the design or adding to it with a pergola or outdoor kitchen, the options with our hardscaping services in Portland are limitless.
Reach out to the Archadeck team today at (503) 683-8989 to get started.