Custom Outdoor Fireplaces & Fire Pits
Houston Outdoor Firepits & Fireplaces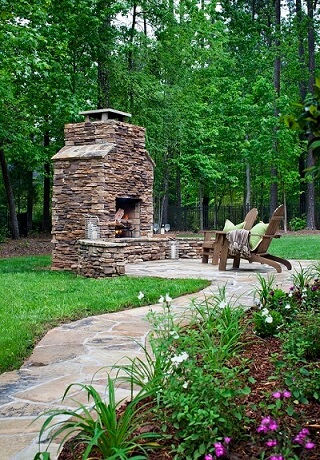 The demand for professionally designed and built outdoor living spaces in the Houston area shows no sign of slowing down, and, in fact, homeowners are showing increased diversity in regards to the features they want. Nowadays, homeowners see their yard as an extension of the inside of their home, and they are increasingly seeking ways to convert their backyards into comfortable living spaces if it means they can spend more time there.
At Archadeck of Southwest Houston, our custom outdoor fire features are a perfect addition to any outdoor living space. Providing a luxurious comfortable lifestyle, an outdoor fire pit can be perfect for when the sunset cools down a warm summer day. As the young ones roast marshmallows, the adults can circle up and continue to enjoy each other's company into the night. A lovely custom built outdoor fireplace allows you to enjoy cool spring & fall days on your porch, patio or deck. With a warm fire roaring, you'll create and enjoy a warm inviting space to relax or entertain.
Outdoor Fire Pits for Patio or Deck
Outdoor fire features provide the diversity, coziness and ambiance Houston-area homeowners are seeking in their outdoor living spaces. Not only do fire features make a stunning focal point within an outdoor living space, they make a perfect accompaniment to a patio, deck, porch or screened porch, too.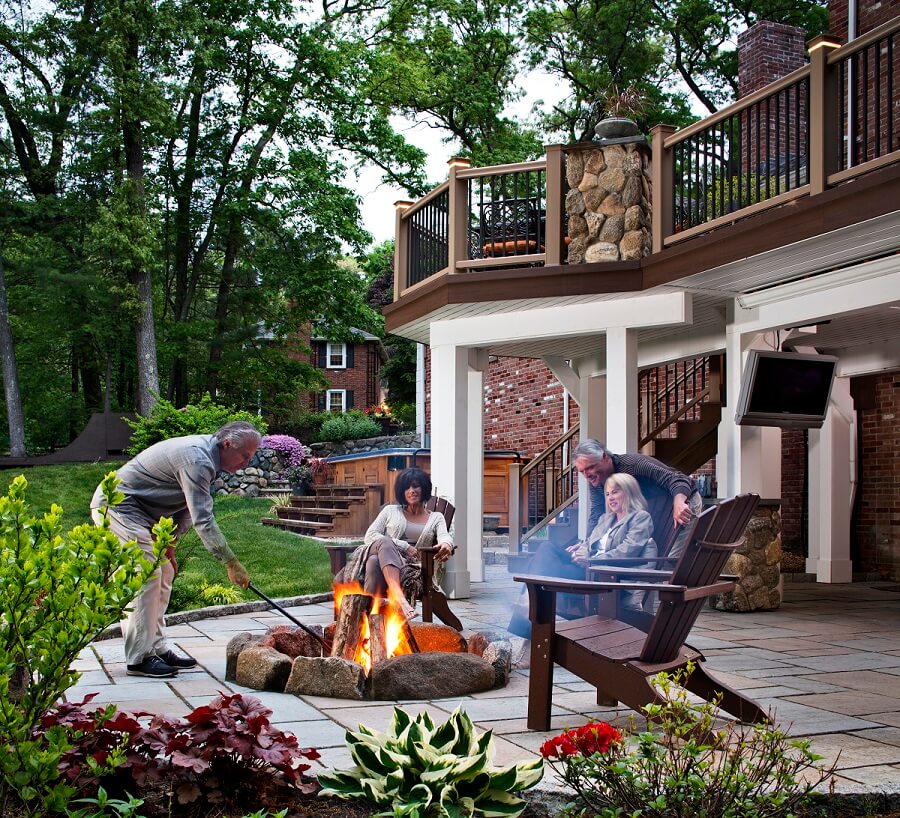 This outdoor living space has it all: a deck, patio, porch, and fire pit. The stone patio pavers provide a beautiful, yet neutral base to the outdoor living space. A low-to-grade fire pit was built into the patio for a natural fire pit feel. It's surrounded by large natural stone matching the porch columns for a rustic finish.
Did you know we can integrate a custom firepit right into your patio or deck design? Gone are the days of spending the day on the deck and having to trek out to the back of the yard to enjoy a bonfire. Keep your guests on the deck with a firepit for evening enjoyment. With built-in benches, retaining walls and curved outcrops, your deck or patio will be made for enjoying your new fire feature.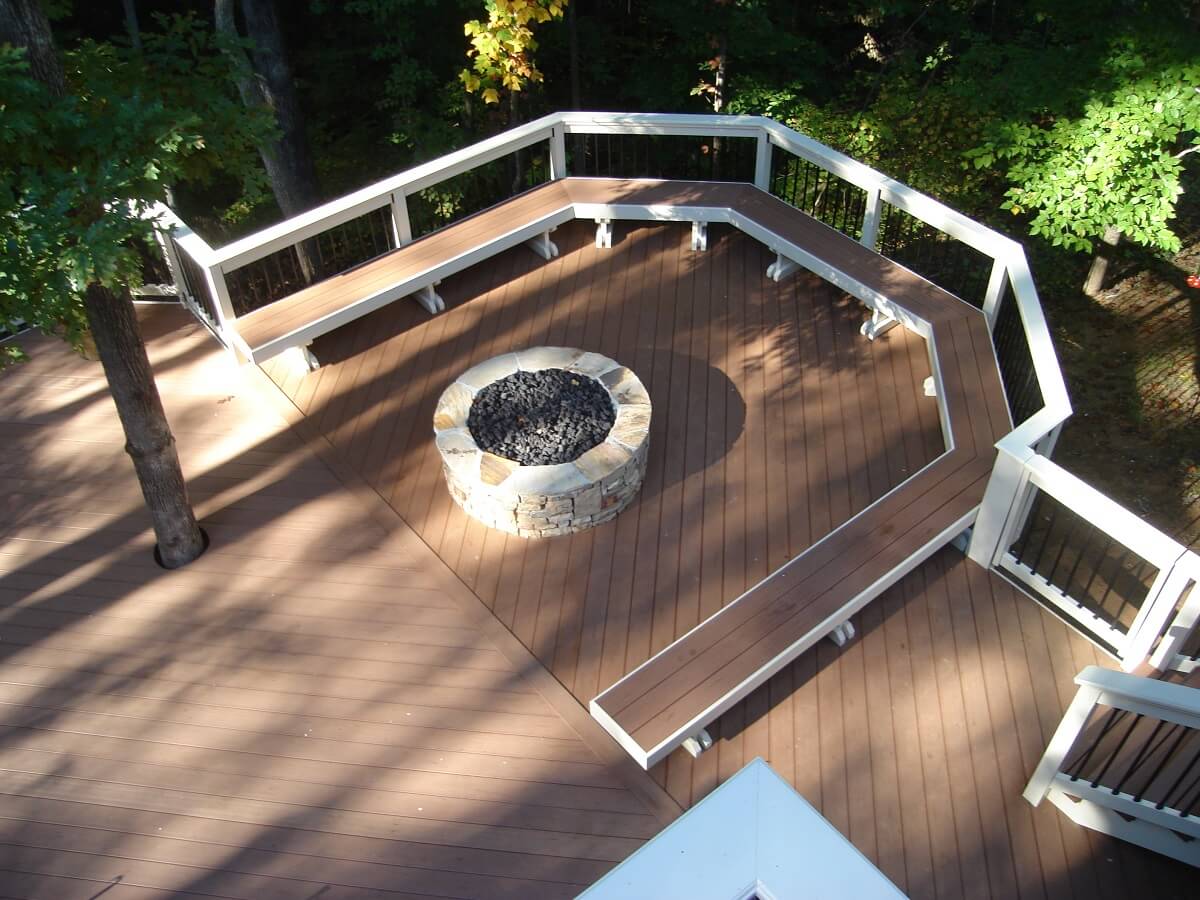 Outdoor Fireplaces are Perfect for Patios, Decks, Porches & Sunrooms
While your deck or patio offer great spaces for a fireplace, we can also build fireplaces on porches, screened porches, and outdoor rooms. Creating comfortable, elegant outdoor living for cooler weather is an important part of getting the most time out of your new space.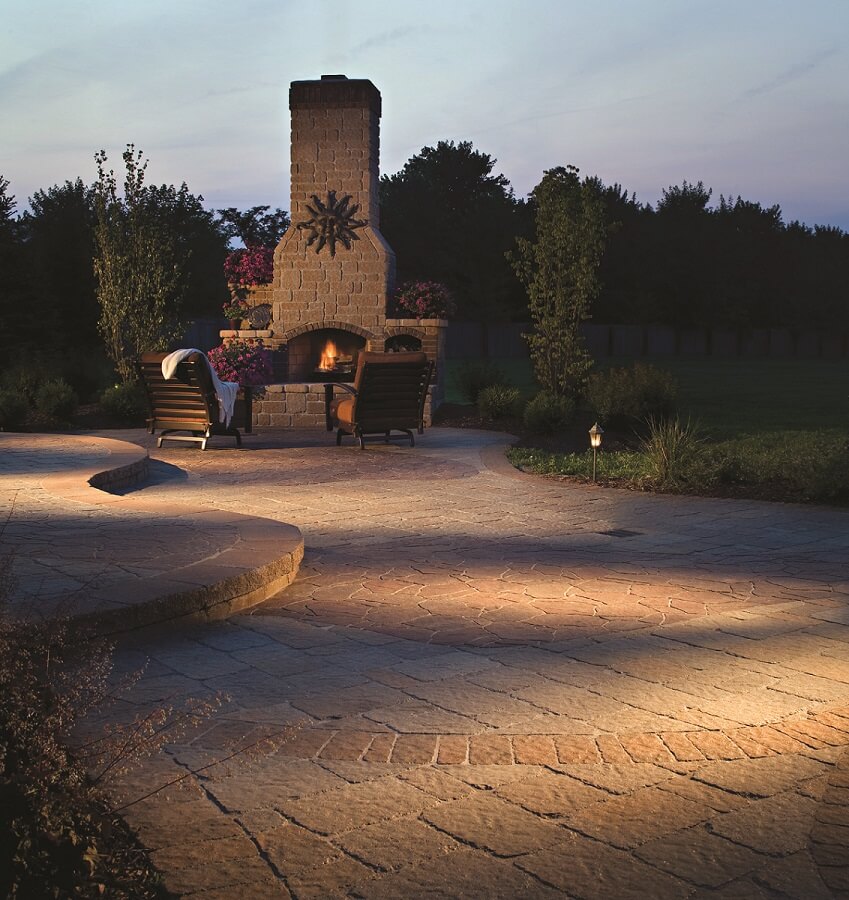 Contact Archadeck of Southwest Houston today to schedule your complimentary outdoor living design consultation! You can reach us by phone at (281) 214-8299, or via email at swhouston@archadeck.net.