Central Connecticut Decks
Making your backyard deck dreams come true
At Archadeck of Hartford-Fairfield, we have been building decks for homeowners throughout the Central Connecticut region for over 17 years. We service Hartford,Avon, Cheshire, Farmington, Guilford, Madison, Woodbridge, Fairfield, and the surrounding areas of CT. Our goal is to bring the best to our customers and that includes not only the best design and craftsmanship but also the best materials.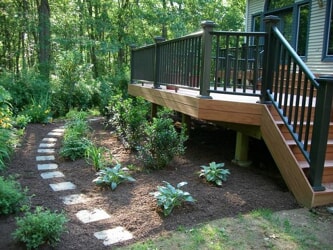 We specialize in composite and PVC decks, pressure treated wooden decks, hardwood decks and even eco-friendly bamboo decks. Here is an in-depth look at some of our custom deck designs:
Cheshire CT Low Maintenance Deck Builder
This elegant low maintenance deck in Cheshire, CT is built with function and beauty in mind. Built using low maintenance Fiberon decking. Which gives this outdoor space the natural beauty of hardwoods without the upkeep. The original plan for this deck was to use traditional low maintenance railing, but as the project evolved the homeowner's, along with our designer, decided that a Feeney cable rail would give the deck a distinct look that would set it apart from the ordinary. We topped the deck railing off with cedar caps to better tie in the cedar used for the pergola into the deck space.
Middleton CT Deck Builder
Archadeck of Hartford-Fairfield designed exactly the space these Middleton, CT, homeowners had in mind. This new deck includes a spacious area that provides for grilling, dining and gathering.The area then descends into a sunken deck and hardscape patio combination which is surrounded by a custom seating area with inglenook style seating. The custom seating is designed around the homeowner's fire pit which sits in the center of the hardscape patio.